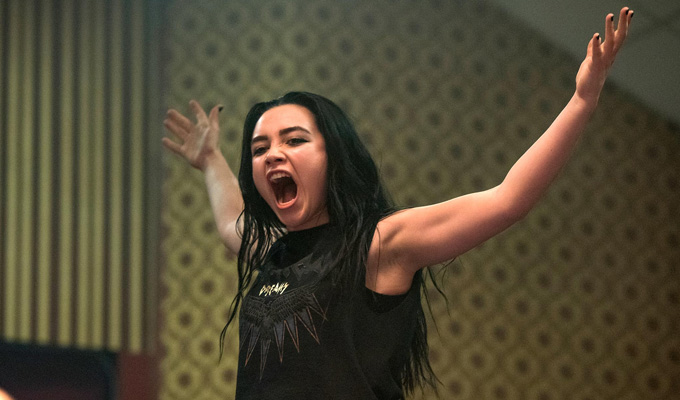 Wrestling with comedy...
The week's best comedy on demand.
Fighting With My Family
Stephen Merchant's comedy-drama based on the real life of WWE's Paige and her family of professional wrestlers in Norfolk, has come to Netflix.
Merchant wrote the script and directed a cast that includes Florence Pugh, Lena Headey, Nick Frost, Vince Vaughn and Dwayne 'The Rock' Johnson. And he has said of the movie: 'It's a true story about a working-class girl who, against the odds, climbed to the very top of her unusual profession. And as with Rocky and boxing, even if you don't like her sport, you'll love her journey.'
Here is our review from its February cinema release.
John Mulaney's Sack Lunch Bunch
Comedians have to go the extra mile to stand out against the hundreds of other specials on Netflix. For this one, John Mulaney has eschewed the stand-up format and gone for a children's musical comedy special – even though he has neither children nor musical ability.
But he explains why he's tried to recreate an old-fashioned format. 'Recently I watched children's TV and I didn't like it at all. But I liked it when I was a kid, which means it was better back then.'
Indeed, Sack Lunch Bunch captures an old-fashioned spirit while being knowing throughout – mainly an unflinching honesty about the vicissitudes of life. Anyone who saw Funz And Gamez on the live stage might detect similar sensibilities, although Mulaney is dry and wry compared to the manis desperation of Phil Ellis & Co.
Watch this one-off – in every sense of the word – on Netflix.
Ed Byrne: Spoiler Alert
The comedian's 2017 stand-up show aired on BBC Scotland this week, and so is available on iPlayer. In it, the Mock The Week regular compares his childhood to the comparatively spoiled existence of his two sons.
BBC Scotland also bought us The Comedians at the King's this week, featuring stand-up from circuit veterans Fred MacAulay, Jo Caulfield, Brian Higgins, Michael Redmond and Janey Godley. Watch here
Count Arthur Strong's Radio Show! Christmas Special 2019
In the seasonal instalment of the Radio 4 comedy, the first in 12 months, Steve Delaney's alter-ego sets about launching Malcolm's singing career, starting with some Christmas carolling. Listen on BBC Sounds
30 Rock
It's your last chance to watch Tina Fey's fab sitcom on All4 as all seven series vanish from the streaming service on December 31. For the uninitiated, the show follows Liz Lemon (Fey), head writer for a Saturday Night Live-style sketch comedy show, as she tries to contend with the mad escapades of her colleagues.
The comedian shares genuine audio recordings of his family's Christmas dinners in this half-hour, Radio 4 show. Hear his relatives pick over the bones of Midnight Mass, dissect jokes, lament the quality of fish and chips and mourn discontinued bus routes… all interspersed with Kearns' award-winning stand-up. Listen on BBC Sounds
Published: 28 Dec 2019
What do you think?