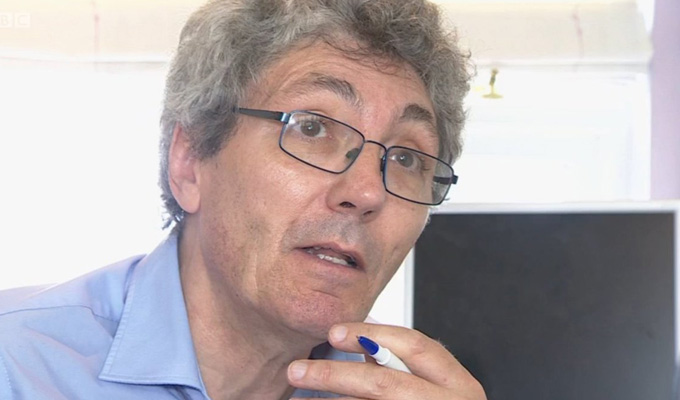 BBC orders a comedy-drama based around Parkinson's
The BBC has commissioned a romantic comedy about people with Parkinson's disease, written by Vicar of Dibley writer Paul Mayhew-Archer, who has the condition himself.
But When We Dance focusses on two people who fall in love at a ballet class for people with the illness, run by the English National Ballet.
The 90-minute BBC One film is based on Mayhew-Archer's own experiences of attending such classes to help him manage the effects of the disease.
He said: 'People with Parkinson's are also funny and loving and irrepressibly optimistic, and I know this because I'm one of them.
'When I was first diagnosed, my neurologist, who is a lovely man, told me, "You seem to find it quite hard to smile". Well, I thought, maybe that's because you've just told me I have Parkinson's.'
The film is directed by Phoenix Nights' Jonny Campbell and has been commissioned as part of the BBC's pledge to boosting the representation of disabled people on screen. The Corporation also announced a second series for Tim Renkow's sitcom, Jerk, last night.
Speaking about the script in his 2016 documentary Parkinson's: The Funny Side, Mayhew-Archer said writing the film was 'proof that my marbles have gone completely AWOL.
'The funniest bit is that it's actually been commissioned so I think [the BBC's] marbles have gone AWOL as well.'
He added: 'When I saw the urologist when I was diagnosed, he said "you should expect five good years". And I remember thinking actually, that's pretty good because up until now I've had the odd good year but never five.'
Producer Hilary Bevan Jones said: 'But When We Dance is a captivating and unusual love story that Paul has written with warmth and wit. [Central characters] Tony and Emma have every reason not to fall in love - both live with a progressive disease that is currently incurable. But the experience of living with Parkinson's can be mysterious as it can give as well as take away.'
BBC commissioning editor Lucy Richer added: 'Paul writes with honesty, humour and hope about an important subject which will impact on many of us in our lifetimes. We are very proud to tell this story on BBC One.'
'This is an important film that will touch so many lives. Parkinson's UK estimate that every hour, two people in the UK are told they have Parkinson's, and around 145,000 people have Parkinson's in the UK alone. Although onset of the disease tends to happen in later life, it can also affect people from their 30s onwards.'
Mayhew-Archer's credits include co-writing Dibley with Richard Curtis, writing on Mrs Brown's Boys and My Hero, as well as producing Josh and I'm Sorry I Haven't A Clue and script editing on shows such as Miranda, My Family and Spitting Image.
But When We Dance production credits
Written by: Paul Mayhew-Archer
Made by: Endor in association with Clearwood Films
Commissioned by: Charlotte Moore, director of content, and Piers Wenger, controller of BBC Drama for BBC One
Executive producers: Lucy Richer for the BBC, Paul Mayhew-Archer and Ellie Wood
Producer: Hilary Bevan Jones,
- by Jay Richardson
Published: 3 Dec 2019
What do you think?