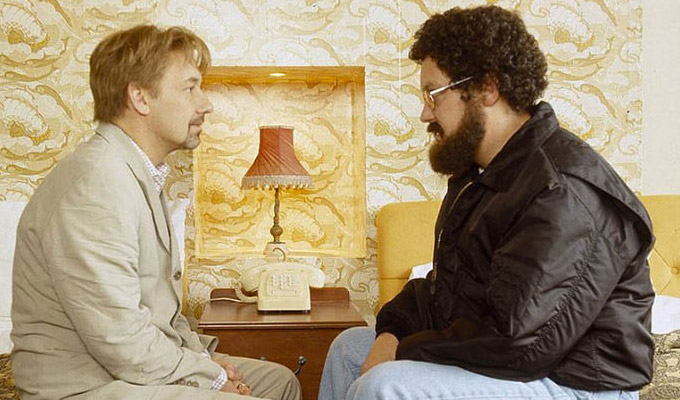 Vic and Bob consider a return to Catterick
Vic Reeves and Bob Mortimer are considering reviving their show Catterick – possibly as an animation.
The pair's surreal sitcom ran on BBC Three in 2004, and revolved around two brothers, Carl and Chris Palmer, on a quest to find the former's long-lost son.
Its cast that also included Reece Shearsmith, Morwenna Banks, Mark Benton, Tim Healy and Charlie Higson.
The BBC did not commission a second series, but it maintains a cult following – and is one of the shows the duo are most proud of.
At a preview screening of the new series of Vic & Bob's Big Night Out last night, Mortimer asked his colleague what the favourite show they'd done together was
Reeves – real name Jim Moir – said: 'I'd say Bang Bang first, and then really close second Catterick.'
When it got a smattering of applause, he asked the audience: 'Do people like Catterick?' prompting a more enthusiastic response.
He then added: 'We might do it again. In whatever angle, or whatever variation of media…'
'We might do it animated,' Mortimer suggested. 'I've been learning animated acting.'
In the meantime, Catterick fans might satisfied with the film the pair are working on The Glove, with Reeves explaining that it has a similar tone.
'And I think the people who liked Catterick will be pleased,' he told the audience at the British Film Institute on London's South Bank, before joking: 'Because it's exactly the same.'
The Glove was wrtitten ten years ago, but is only now being made.
In it, the pair play childhood friends who own a failing junk shop. But when they struggle to pay the rent, their obnoxious landlord gives them an alternative to eviction: to secure him Michael Jackson's iconic glove.
The ensuing plot is described as 'a madcap road movie across Britain as they enter the world of strange collectables and celebrity memorabilia'.
It co-stars Matt Lucas, Noel Fielding, Paul Whitehouse, Tim Key, Morgana Robinson, Tony Way and Tony Pitts.
• Vic & Bob's Big Night Out returns to BBC Four on November 27.
Published: 21 Nov 2019
What do you think?