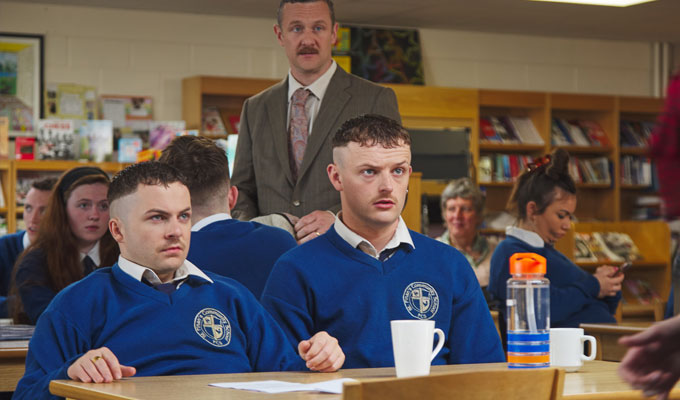 Repeat Offenders
The week's best comedy on demand..
The Young Offenders
This week saw the welcome return of Cork langers Conor and Jock and non-nonsense mum Mairead forever trying to keep a lid on their delinquency in Peter Foott's raucously bonkers rite-of-passage comedy. All of series two is available on iPlayer now.
Wife On Earth
Joanna Neary's Celia Johnson-inspired alter ego Celia Jesson has got her own sitcom in podcast form. The character, a repressed housewife from Upper Lowing, has been encouraged to do a book-based podcast to promote the local library, run by Marion Crooks (Anna Crilly).
The cast also includes Adam Buxton as a local actor, Alastair Kerr as Celia's dependable husband Fred and guest stars including Paul Putner, Michael Legge and Robin Ince.
The first series, written by Neary and Joseph Nixon, launched this week on all the usual platforms, including Soundcloud.
Secret Artist
In this new podcast, Annie McGrath chats to guests as they both paint or draw a work of art. The first two episodes, released on Acast feature Phil Wang and Katy Wix, with Rhys James, Mae Martin, Lou Sanders, Harriet Kemsley, Ellie White and Pierre Novellie to come.
It is a precursor to a London exhibition McGrath is curating of art by comedians, raising money for Mental Health UK.
A Cock and Bull Story
New on Amazon Prime is this off-beat 2005 Michael Winterbottom comedy about an attempt to film Laurence Sterne's 'unfilmable' 18th Century novel The Life and Opinions of Tristram Shandy. It stars Steve Coogan as both himself and Tristram Shandy, while Rob Brydon is himself and Toby, with the same sort of dynamic the actors and director brought to The Trip series.
PhoneShop
Every episode of this 2010-2013 E4 comedy has just returned to All4, with Ashley (Andrew Brooke), Jerwayne (Javone Prince), Janine (Emma Fryer), Christopher (Tom Bennett) and manager Lance (Martin Trenaman) forever getting distracted from the serious business of locking mugs into inappropriate phone contracts. Watch here.
Jenny McCarthy's Dirty, Sexy, Funny
Originally made for US broadcaster ePix, this 2014 speical has just landed on Amazon Prime. Stand-up comdians including Tammy Pescatelli, Paula Bel and Tiffany Haddish take a look at life as a contemporary woman: from single motherhood to casual sex, along with McCarthy's sketches. Watch here.
We Don't Deserve Dogs
Hosted by the Instagram-famous vet Dr. Lisa Lippman and her comedian boyfriend Richie Redding, this new US podcast features guests – including Matt Richards (HQ Trivia), Kat Timpf (Fox News), and comic Christian Finnegan – talking about their pets, alongside 'informative segments, quizzes, and lots of pet talk'. Listen here.
Published: 9 Nov 2019
What do you think?