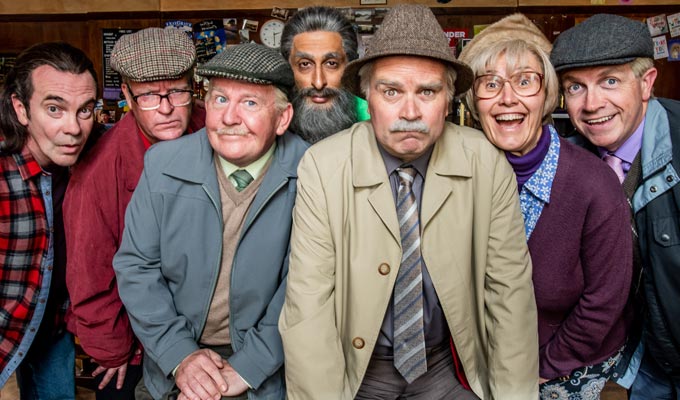 Still Game to get an outstanding contribution Bafta
Still Game is to receive a Scottish Bafta for its outstanding contribution to broadcasting.
Greg Hemphill and Ford Kiernan's sitcom came to an end this year after 17 years and 62 episodes on screen.
Their characters Jack Jarvis and Victor McDade were first seen on the BBC Scotland sketch show Chewing The Fat, before spinning off into a theatre show, which then became BBC Scotland show and eventually networked BBC One sitcom.
They and the rest of the cast have just brought the Still Game saga to an end with a run of shows at the Hydro in Glasgow. However, the final performance on Sunday was marred by a brawl in the audience.
Police were called after reports of a fighting between audience members near the front of the stage, but no arrests were made.
TV critic Kevin O'Sullivan, who was in the audience, said: 'There was a real life fight, we got some serious action just in front of us.
'A massive punch-up and people carted out. I don't want to cast aspersions but it seemed very Glasgow to me.'
Hemphill and Kiernan will be joined by director Michael Hines when they receive the Bafta award at the ceremony in Glasgow on November 2.
Hines said: 'We couldn't be more delighted or proud to receive this special Bafta Scotland award.
'Still Game has brought us a lot of happiness over these past 22 years and it means so much to us to know that it's made others happy too. It's been an incredible, unforgettable journey and this award has helped to make it a really special end.'
Another outstanding contribution Bafta will go to veteran script supervisor Pat Rambaut, whose credits include Local Hero, Bridget Jones's Diary, Michael Collins and Comfort & Joy.
Published: 16 Oct 2019
What do you think?