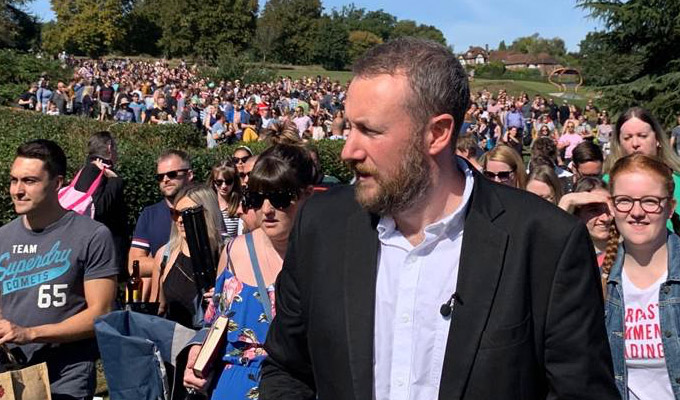 The Taskmaster army
Around 1,800 people descended on a small Buckinghamshire park yesterday to complete one of the challenges in the Taskmaster book.
Alex Horne expected a few dozen people might turn up to Lowndes Park to tick off task number 185 in the tie-in title, published more than a year ago.
But in the event, hundreds arrived – some from as far afield as Boston in the US.
He said: 'I was overjoyed and overwhelmed by the number of people who turned up. I had no idea people were that into picnics or coordinates.'
The task was simply: 'Meet at this mound at midday on September 14, 2019. A Taskmaster tour begins at 1pm after a picnic. Bring your own picnic' and gave the latitude 51.706625073 and longitude -0.619552994.
The coordinates took fans to the green space close to Horne's home, where some of the Taskmaster tasks are filmed.
So many people showed up that a plan to go to a football match was abandoned, and a tour of the town was cut short. Instead the crowd took part in task to keep a beach ball aloft as long as possible.
Last week it was announced that Finland and Norway were to make their own versions of Taskmaster.
Absolute scenes in Chesham for Taskmaster task 185, it's like a damned festival! @taskmaster @AlexHorne #taskmasterpicnic #Taskmaster pic.twitter.com/hNnlHs7slo

— Dave (@DavidJClucas) September 14, 2019
Great day out with @AlexHorne at the #taskmasterpicnic about 50 people there when we got there and well over a 1000 when we left. Although the tour through Chesham had to be cut short understandably. #backupthehill @taskmaster pic.twitter.com/8sxd13fPD3

— Nick Whild (@nwhild) September 14, 2019
Published: 16 Sep 2019
What do you think?