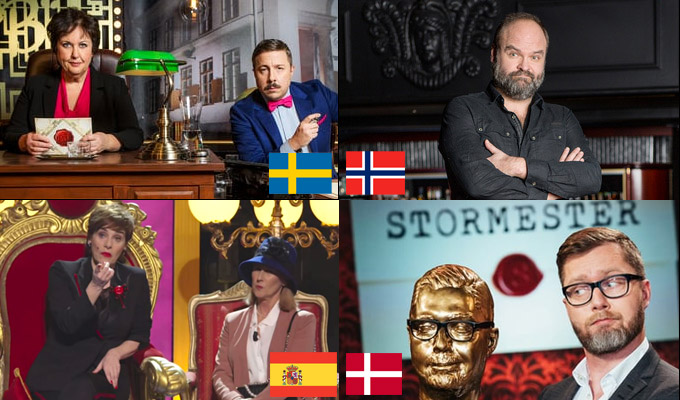 Nordic move
Finland and Norway are to make their own versions of Taskmaster – following the success of other remakes in Sweden and Denmark.
In Finland, ten hour-long episodes have been ordered under the name Suurmestari, which translates as The Big Master.
It will air on MTV3, the country's biggest commercial broadcaster, which is unrelated to the music video channel which shares its initials.
The same number of episodes have been ordered for Discovery Norway, where it will be known as Kongen Befaler – which translates as The King Commands, the local name for the children's game Simon Says.
Comedian Atle Antonsen will be the Taskmaster with newcomer Olli Wermskog as his sidekick – the role played by series creator Alex Horne in the original UK versions.
Antonsen said: 'I can't wait to see what this gang is really good at. How do they go about filling an eggcup with tears as quickly as possible? Or which of them best entertains the mayor of Karasjok?'
Among the contestants are comedy duo Ylvis – the brothers Vegard and Bård Ylvisåker who were behind the 2013 viral hit single The Fox (What Does the Fox Say?)
Danish commercial broadcaster TV2 has just ordered a third series of the local version Stormester, or Grand Master, while Sweden's public broadcaster, SVT is set to make a fourth series of their incarnation, Bäst i Test! or Best in Test! The show has just been named programme of the year at the Kristallen 2019, the local equivalent of the Baftas.
Isobel Hughes, director of distribution and UK production company Avalon, which holds the rights, said: 'It's fantastic to see how Taskmaster has continued to go from strength to strength, not only in its home market in the UK, but also internationally.
'The format is so highly original and fun, and it's been wonderful to see the talent drawn in to take the all-powerful position of the Taskmaster by other broadcasters."
The new deals mean Taskmaster has now been sold to 106 countries, either the original UK programmes or local remakes.
Other local versions of the show which have been produced for Comedy Central in the US, starring Reggie Watts as the Taskmaster, VTM in Belgium and TVE in Spain, where it is known as Dicho y Hecho, or Said And Done
Published: 13 Sep 2019
What do you think?