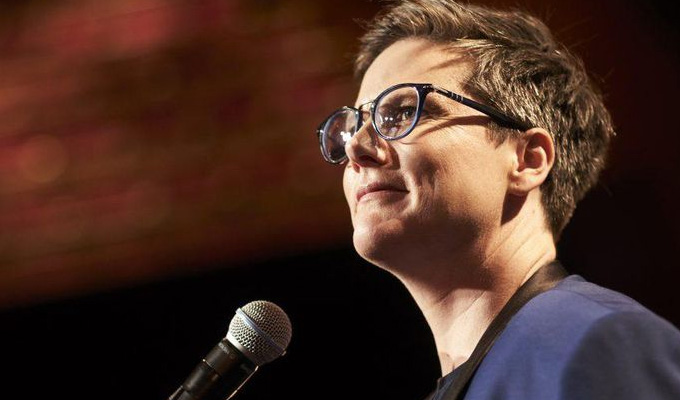 Hannah Gadsby wins an Emmy
Hannah Gadsby has won an Emmy for her groundbreaking stand-up special Nanette.
The comic won the award for outstanding writing in a variety special at a ceremony in Los Angeles last night.
But she lost out on the award for best pre-recorded variety special to James Corden's Carpool Karaoke with Paul McCartney. A bigger surprise was that the category did not go for Beyoncé's concert film and documentary hybrid Homecoming.
Springsteen on Broadway and Wanda Sykes: Not Normal were also nominated.
Among those congratulating Gadsby on her win last night was Hollywood star Russell Crowe, who tweeted: 'Fantastic.'
The bash at the Microsoft Theatre was the first of two nights of the Creative Arts Emmys primarily for offscreen production talent, ahead of the main awards next Sunday.
Carpool Karaoke also won two other awards: for short-form variety series and for its technical direction.
At 97, comedy writer and producer Norman Lear became the oldest Emmy winner in history after scooping the category for outstanding live variety special.
He was rewarded for Live in Front of a Studio Audience: Norman Lear's All In The Family And The Jeffersons in which all-star casts performed episodes of his classic sitcoms.
Giving credit to talk show host Jimmy Kimmel for making it happen, Lear likened the feeling of winning to 'opening a Christmas present when I was seven years old'.
Sir David Attenborough briefly held the title of oldest Emmy winner for a matter of minutes, with the 93-year-old having scooped an award for best narration earlier in the evening.
The Simpsons was named outstanding animated programme for the episode Mad About The Toy, while Seth MacFarlane won outstanding character voiceover performance for playing Family Guy's Peter Griffin, Stewie Griffin, Brian Griffin, Glenn Quagmire, Tom Tucker and Seamus.
Last Week Tonight With John Oliver won awards for picture editing and technical direction; while Saturday Night Live won for lighting design, make-up and production design. The behind-the-scenes spin-off Creating Saturday Night Live won for outstanding short form nonfiction or reality series.
Comedian W. Kamau Bell won the Emmy for outstanding unstructured reality programme for his documentary show United Shades Of America and took the opportunity to tell the audience: 'White people, I'm asking you to bring more diversity and inclusion on these shows.'
Published: 15 Sep 2019
What do you think?