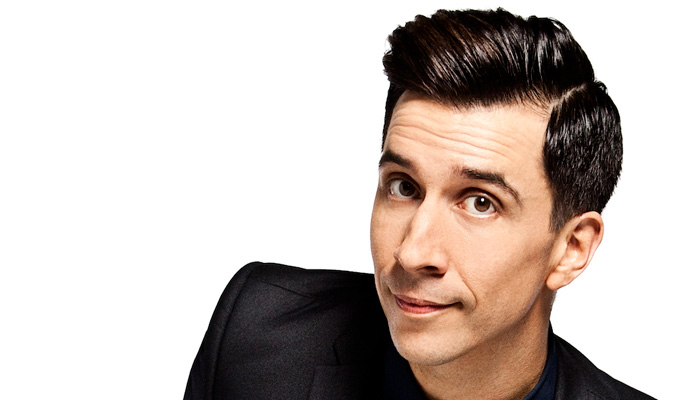 Russell Kane writes his memoirs
Russell Kane has written his memoirs about stepping out of the shadow of his alpha-male father.
Son Of A Silverback is to be released on October 31 after publisher Transworld secured the rights from his agents, Off The Kerb.
Kane said: 'I spent the first part of my life grooming the silver back fur of the alpha male lump of meat who was my Essex dade Dave - of course he was called Dave.
'It was as my mate Steve was weeing himself laughing as I re-told him the story of my dad smashing up a boiled egg because it wasn't cooked right, that I thought, hang on… I've got an interest-only mortgage - even if I carry on gigging for another 25 years till I'm like Ken Dodd on caffeine, I've still got a debt-hole looming. Need to write a book. Sod it. Dad'll do.'
Kane's relationship with his father was the basis for his breakthrough stand-up show that won him the Edinburgh Comedy Award in 2010.
He previously wrote the novel The Humourist, about a critic with an detailed understanding of comedy but cursed with the inability to laugh, but this is his first non-fiction book.
Transworld's editorial director Michelle Signor said: 'I've been a huge fan of Russell's stand-up for years and have wanted to publish a book by him for as long as I can remember.
'Russell is such a gifted storyteller – as well as delivering laughs on every single page, he deftly challenges preconceived notions about class, education and what it means to be a man and a father. Just like his stand-up, his book absolutely fizzes with energy.'
The blurb for Son Of A Silverback says: 'This is a story about fathers and sons, class and education and how one scrawny, sensitive, fake-tan-applying "ponce" stepped out of his father's shadow and became a man - whatever that means.'
It will be published on October 31. Click here to order.
Published: 23 Aug 2019
What do you think?