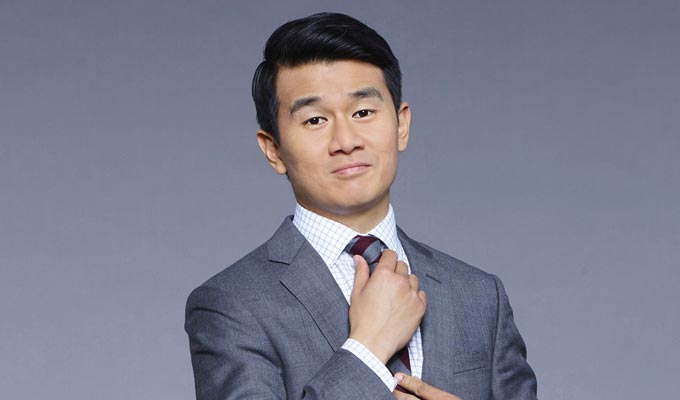 Why political comedy is so hard in 2019
Political comedy is getting harder to do in today's a highly polarised climate, some of America's leading satirists have said.
Audiences taking offence or reacting angrily to hearing contrary views have made the job more difficult, although some stand-ups say they relish the challenge.
Meanwhile, those who work in TV also expressed fears that by ridiculing Donald Trump's opinions they are helping to spread and legitimise them – as well as letting the President set their agenda.
Speaking at Montreal's Just For Laughs festival, Daily Show correspondent Ronny Chieng, pictured, said his show was 'designed to comment on the zeitgeist of the day', but added: 'Unfortunately if what is happening is what he has tweeted we're forced to comment on that - so it could be said we are adding to the chaos.
'But that's our job, he just dominates the headlines so much we're forced to comment on it. We get sucked into that vortex.'
However, he said: 'We're very conscious of the hijacking of the media by Trump and that lets us have some antibodies to try to combat that – but very important stories that are being missed because we are getting trolled.'
Hosting the session as part of the festival's ComedyPro strand, Daily Show producer Baratunde Thurston said there was 'always harm' in repeating Trump's more outlandish messages, as they were exposing people to the 'toxic virus'.
Chieng said Daily Show host Trevor Noah did not want to play the 'outrage game' – and recalled an incident when an interview with a white supremicist was pulled for fear of giving him the oxygen of publicity.
Chieng spoke to neo-Nazi Richard Spencer on camera but admitted: 'I wasn't smart enough to get him. You're not going to catch him out and reveal him to be a racist as they are very open about the fact. There's no "gotcha".
'He told me, "Just the fact you're talking to me means I won."'
Noah agreed, pulling the plug on the segment before it went to air.
Asking a question from the floor, one US comedy club owner said he had spotted a rise in white nationalism posing as comedy on the open mic circuit.
But comedian Erin Foley said free speech was important. She said that she speaks her mind during her stand-up, and 'that dirtbag has the same right as I do'.
'You hope humanity prevails,' she added. 'You hope everyone else stands up and says "no you're a despicable person".'
She also said she was wary of preaching only to the choir.
'As a comedian you want to find your people - but is it better if i got to a purple area?' she said, referring to places that have both red Republican and blue Democratic elements. 'You have to keep fighting.'
But she added: 'I'm certainly not going to a red zone.'
The panel were divided as to whether their comedy could bring about a change.
Daily Show correspondent Michael Kosta said: 'I don't think you can effect change through comedy. Maybe two per cent.'
Chieng said he always wanted to include 'some statement of political change' in his act but added: 'It has to be the change I want to make happen, not what the community wants. If you try to listen to all these people you end up messing up your act and most the time they don't know what they want either. There are so many agendas and stakeholders.
'The Daily Show has made me a better comedy writer. I ask, "What are you trying to say with that joke?" I never considered that before. My first allegiance is to doing comedy and doing it better and telling the right jokes for the right reasons.'
Comedy historian Kliph Nesterhoff added: 'Political comedy's job is not to change things, it's to make you laugh. If it doesn't make you laugh it hasn't worked. That's not comedy's job [to effect change] and that's OK. The only time it effects social change is through representation.'
The polarised nature of audiences and the way they can whip up a social media storm that could, in extreme situations, cost a comedian their job was also cause for concern.
But Kosta said: 'The degrees of difficulty is higher now based on what you can and cannot tackle - but that is fun when you write a joke that gets everybody to laugh.
'Now there is the outrage culture, the immediate access to you, and the risk you might get fired. That there are things that appear to be at stake makes comedy exciting and fun.'
Foley said she doesn't mention Trump's name on stage any more for fear of losing half the room.
'A lot is at stake,' she agreed. 'Outrage goes up and up. so I have to think how can I take material and make it funny so people don't scream and yell and beat me up at the end of the day. But I love it.
'Even if I go to the bowels of the USA and say "I'm gay" that's something. But is so volatile you have to be careful, You have talk around it. Make it not about him [Trump] per se but make a joke about gay marriage, or climate change.'
However she admits: 'Some people just want a night off from all the bullshit and you just ant to laugh at cats and socks. You have to read the room and shift gears. I hear that side of it too. A night of of laughing is cathartic.'
Published: 26 Jul 2019
What do you think?