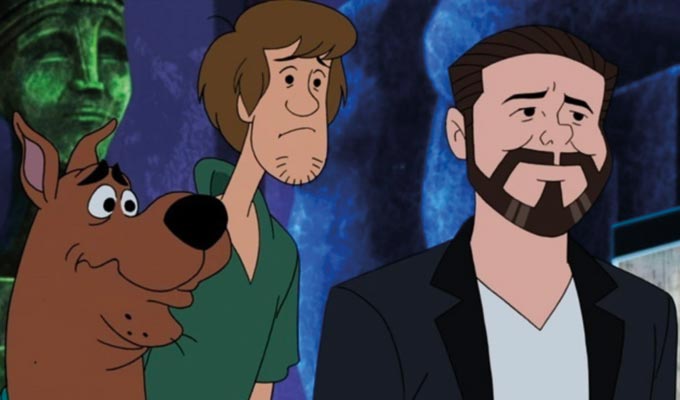 Ricky Gervais stars in Scooby-Doo
Ricky Gervais is to make a guest appearance in an episode of Scooby-Doo.
The comic plays a version of himself, with his own name and familiar comic tics in Scooby-Doo and Guess Who? which is released today.
In one scene, the comic makes a weak pun about not opening a sarcophagus 'without a note from his Mummy' before letting out a wan, nervous laugh and commenting: 'See what I did there.
And then he offers a meta analysis of Velma's making a cryptic message and dramatic pause, saying she should 'just say who the bad guy is, just blurt it out and we can all go home.'
'Mr G, that's not really how we do things,' Shaggy says.
Gervais posted another clip on his Twitter feed when he sings a short song to a cat:
My episode of "Scooby Doo! & Guess Who?" airs tomorrow across America, & look who wormed her way in... pic.twitter.com/O3y3kKgkEn

— Ricky Gervais (@rickygervais) July 24, 2019
Gervais is not the only star featuring in the new series, as other guest stars include Whoopi Goldberg, Sia, Wanda Skyes, Weird Al Yankovic and Kenan Thompson.
This is the 13th series in Hanna-Barbera's franchise. It airs on the streaming service Boomerang and comprises13 episodes
Gervais has previously appeared in a 2006 episode of The Simpsons, which he also wrote.
Published: 25 Jul 2019
What do you think?