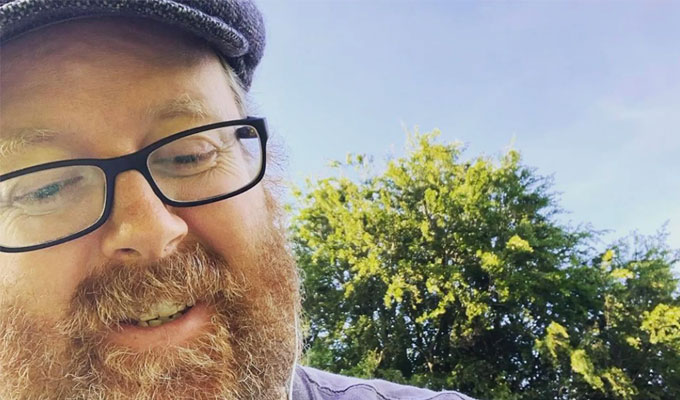 Frankie Boyle to film a travelogue around Scotland
Frankie Boyle is to film a new BBC Two travelogue about his native Scotland, Chortle can reveal.
A film crew will follow the controversial comedian on his first tour of his homeland for more than a decade, taking in the landscape and the people he meets along the way.
The four half-hour shows are provisionally titled Frankie Boyle's Tour of Scotland – and call to mind fellow Glaswegian Billy Connolly's World Tour Of Scotland, which aired 25 years ago this month.
Boyle has announced shows in h Aberdeen, Ayr, Edinburgh and Glasgow this summer, smaller venues around the country.
Clare Sillery, the BBC's head of commissioning for documentaries, said: 'Frankie never fails to bring his own unique and uncompromising analysis to the world and it's a hugely exciting prospect to see him turn his gaze on home turf. At a fascinating time for questions about Scotland's identity and future, this series will explore the nations past and present via one of its sharpest minds.'
Programme-makers Two Rivers Media say Boyle will seek out 'the people he thinks could help him understand where Scotland's really at in 2019'
Mick McAvoy, the company's head of factual, programmes added: 'Frankie Boyle is one of the most brilliant comedians of his generation and we are delighted to be bringing him to BBC Two in this combination of personal travelogue and comedic observation.
'Our team have produced programmes in every corner of Scotland and on subjects as diverse as Arthur Conan Doyle, Robert the Bruce and child poverty in Ayrshire. So it's fantastic to be opening our contacts book for this stand-up tour with a difference, set against the breathtaking backdrop of Scotland.'
Last year Boyle travelled to Russia for BBC Two, for a two-part documentary that aired in the build-up to the football world cup
Frankie Boyle's Tour of Scotland
Production Credits
Made by: Two Rivers Media in partnership with Cheeky Grin
Commissioned by: Patrick Holland, commissioner, BBC Two and Clare Sillery, head of commissioning, documentaries
Commissioning editor: Hamish Fergusson
Executive producers: Mick McAvoy and Nicky Waltham.
Published: 18 Jul 2019
What do you think?