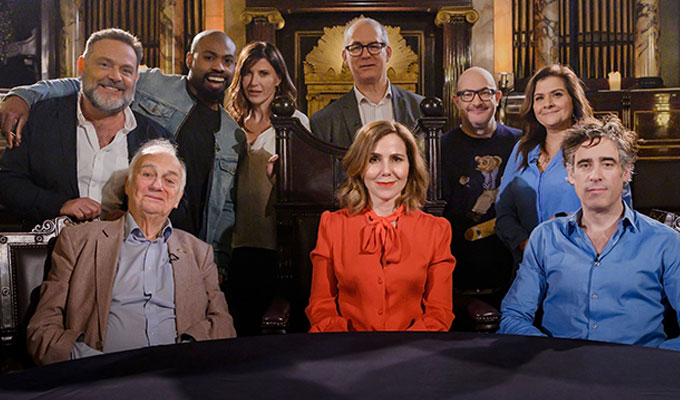 Who'll be crowned Britain's greatest comedian?
The comedy week ahead on TV and radio
Sunday May 26
BRITAIN'S GREATEST COMEDIAN: Over a three-hour programme, a jury of experts will deliberate on who deserves the title from a shortlist of 30 - previously disclosed here. Among them are Billy Connolly, Tommy Cooper, Eric Morecambe and Victoria Wood - but notable by their absence are the likes of Tony Hancock, Frankie Howerd, Peter Cook and Vic Reeves. Tasked with ranking the list are Sally Phillips, Stephen Mangan, Nina Wadia, John Thomson, Ronni Ancona, Darren Harriott, David Quantick, Boyd Hilton and Roy Hudd. Gold, 8pm
JO CAULFIELD: PRETENDING TO CARE The comedy circuit stalwart, panel show regular and writer takes this week's stand-up special slot. Radio 4, 7.15pm.
Monday May 27
CRASHING: American comedian Pete Holmes returns for the third and final series of his semi-autobiographical comedy about his adventures making his way through the world of stand-up. Fresh off of a two-month college comedy tour, he returns to New York with newfound confidence in his comedic abilities. No longer crashing on other people's couches, he moves into his own place - but he soon discovers that just because he's got a foot in the door, it doesn't mean he's head of the pack. Sky Atlantic, 11pm
Wednesday May 29
COMEDY CENTRAL LIVE: This week Danish comedian Sofie Hagen performs her stand-up special, speaking about her relationships with men and awkward encounters with her family. Comedy Central, 10.30pm.
URBAN MYTHS: Bob Servant creator Neil Forsyth wrote the final episode in this series, which revolves around Mick Jagger and Princess Margaret's relationship - which attracted the Queen's disapproval. Sky Arts, 9pm
Thursday May 30
THE GOOD PLACE: The fantastic and fantastical comedy starts its second series on E4, for those who never caught it on Netflix - or who just want to revel in it again. Humans Eleanor, Chidi, Tahani and Jason all return to the Good Place – where they don't deserve to be – having had their memories erased by Michael, a demon posing as an angel. E4, 9.30pm
VIP RIP: Jo Brand hosts this new mock obituary show, looking back at the lives of fictional celebrities such as film producer Chip Brockleman, Instagram star Olivia Eating, South African cricketer Janco Van Wijk and sex researcher Virginia Dunt. VIP RIP is voiced by Jan Ravens, Emma Sidi, Vivienne Acheampong, Daniel Maier, George Fouracres, Michael Bertenshaw and Anil Desai and written by Max Davis, Catherine Brinkworth, Kat Sadler, Madeleine Brettingham and James Kettle. Radio 4. 11pm
Friday May 31
ELIS JAMES AND John Robins: The comics make their BBC Radio 5 Live debut, having jumped ship from Radio X. Respectively huge fans of Swansea City Football Club and Queen, the pair have previously won a Chortle Award and a British Podcast Award for their work together. Radio 5 Live, 1pm
HAVE I GOT NEWS FOR YOU: Richard Ayoade is the host and Kiri Pritchard-McLean and Richard Osman the guest panelists. BBC One, 9pm
THE LAST LEG: Harry Hill joins Adam Hills, Josh Widdicombe and Alex Brooker. Channel 4, 10pm
Published: 26 May 2019
What do you think?