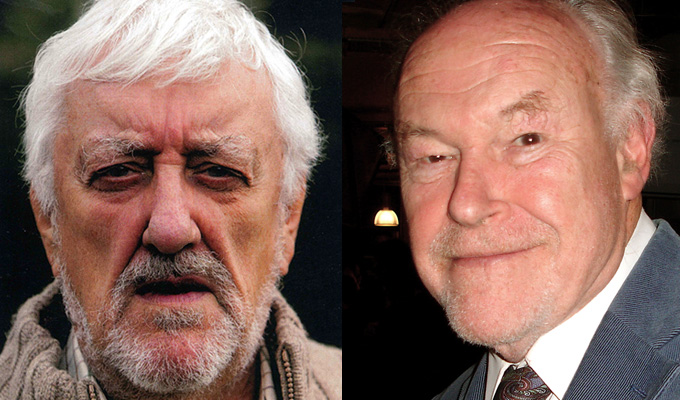 Bernard Cribbins leaves Dad's Army remake
Bernard Cribbins has left the the upcoming Dad's Army remake, citing 'personal reasons'.
The 90-year-old veteran had been due to play the kind-hearted Private Godfrey – as originally played by Arnold Ridley.
Now his role will be taken by Timothy West, 84.
The Brass star said: 'It is a special pleasure for me to be taking over Godfrey from Arnold Ridley who, coincidently, wrote The Ghost Train, the play in which my parents met.'
The Gold channel is remaking three episodes that have been lost from the archives using the original Jimmy Perry and David Croft scripts.
The full platoon consists of Kevin R. McNally as Captain Mainwaring, Robert Bathurst as Sergeant Wilson, Kevin Eldon as Lance Corporal Jones, Mathew Horne as Private Walker, David Hayman as Private Frazer and Tom Rosenthal as Pike.
The three episodes being recreated for Gold are from the original second series, which aired in 1969, and are titled The Loneliness of the Long-Distance Walker, A Stripe for Frazer and Under Fire.
Dad's Army: The Lost Episodes will air on Gold in 2019 to celebrate 50 years since the episodes were first broadcast – and the broadcaster today released this image from a script read-through:
The shows are to be recorded in front of a live studio audience at Pinewood Studios in Buckinghamshire on Fridays March 1, 8 and 15. Free tickets are available from our Free Tickets page.
The classic sitcom was remade previously remade as a film in 2016 with Toby Jones as Mainwaring, Bill Nighy as Wilson and Michael Gambon as Godfrey.
Published: 19 Feb 2019
What do you think?