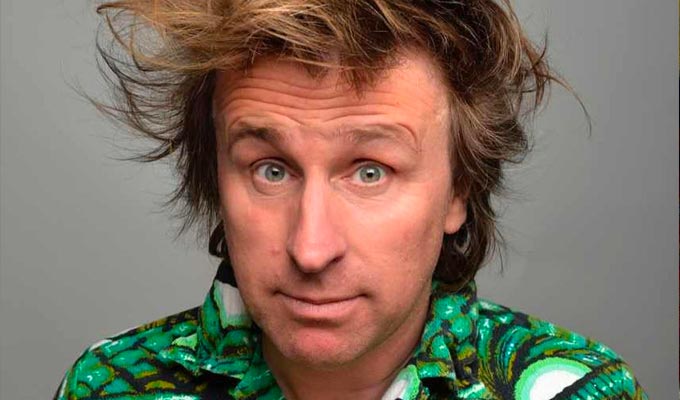 Free tickets
You can see some of Britain's finest comedy talents for free at the recording of TV and radio shows - as well as getting a sneak peek at forthcoming programmes.
Tickets are now available for the following shows. Please note that you should apply for tickets by clicking the links in the copy (either in blue or underlined). Do not email Chortle – we have nothing to do with these recordings and will not respond to any emails about them.
---
Explicable Me
Hosted by Suzi Ruffell, assisted by Ahir Shah, Explicable Me is a comedy entertainment show built around personality tests. We all love those Buzzfeed and Cosmopolitan tests that discover what pizza topping we are, what percentage Kardashian we are and if our sex life were a movie what movie would it be.
Suzi welcomes two celebrity guests to the show, and Ahir administers our own bespoke, funny, slightly unusual personality tests to find out what drives them, what other people think of them, and what direction their moral compass is pointing.
This BBC Radio 2 show will play host to some great stars, make you laugh and perhaps even make you reassess just who you are as a human.
Filming at: RADA Studios on Chenies Street just off Tottenham Court Road
Date and time: Tuesday January 21
Free tickets: Standing Room Only
---
Kate And Koji
A new 'odd couple' comedy from the creators of Outnumbered and Drop the Dead Donkey.
Golden Globe winner Brenda Blethyn (Vera, Secrets & Lies) stars as Kate, the owner of a seaside cafe who forms an unexpected and sparky friendship with Koji, an African asylum-seeker, played by Jimmy Akingbola (In the Long Run, Arrow). Although from very different worlds, they are similar in ways which even they do not recognise, including a dogged determination to never back down! When the fur does start to fly, Kate's funny and resourceful nephew Medium Dave acts as peacemaker.
Dave is played by Blake Harrison (The Inbetweeners, A Very British Scandal). Barbara Flynn (The Beiderbecke Tapes, The Durrells) stars as Councillor Bone, Kate's lifelong arch-enemy. Meera Syal (Goodness Gracious Me, Anita and Me) guest stars as a GP who could get Koji deported.
Kate and Koji is written by Guy Jenkin and Andy Hamilton, the writers of many award-winning shows, including Drop the Dead Donkey & Outnumbered.
Andy Hamilton (Have I Got News For You, QI, Old Harry's Game) will be the warm-up for these enjoyable and very funny evenings.
Filming at: BBC Elstree Studios in Borehamwood
Date: Fridays from January 24 to February 28
Free tickets: Standing Room Only
---
King of the one-liners Milton Jones returns to Radio 4 for a new series of the show where he's the man who can help anyone anywhere - whether they need it or not. Because, in his own words - "No problem too problemy". After all, mention Milton Jones to most people and the first thing they think is 'Help!'...
The cast includes regulars Tom Goodman-Hill (Mr Selfridge, Humans), Josie Lawrence (The Comedy Store Players) and Dan Tetsell (Newsjack).
Filming at: The RADA Studios, 16 Chenies Street, London, WC1E 7EX
Date and time: Tuesday January 7 and Saturday January 11, 7.15pm
Free tickets: BBC Tickets
---
Celebability
A panel of friends will go head-to-head against our celebrity guests all playing for some amazing prizes. Host Iain Stirling will be joined by teams from across the world of TV including comedians, presenters, reality an music stars.
Filming at: BBC Elstree Studios, Borehamwood
Date and time: December 12, 13 and 17, various times
Free tickets: Applause Store
Published: 6 Feb 2019