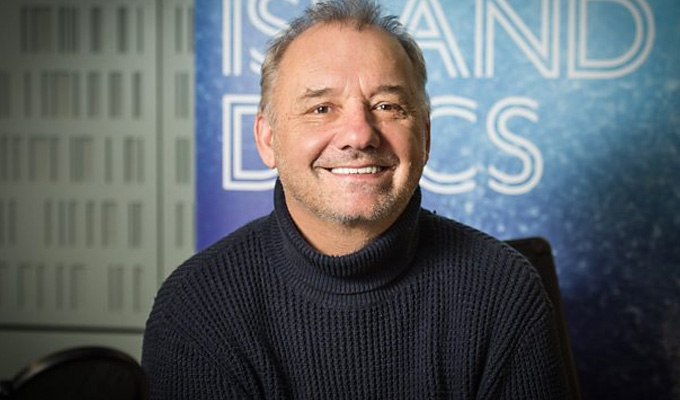 Bob Mortimer: How meeting Vic Reeves cured my crippling shyness
Bob Mortimer has described how losing his father at a young age left him with lasting insecurities.
The comic also opens up about his lifelong battle with debilitating shyness, which he only began to overcome when he met Vic Reeves.
Speaking on today's Desert Island Discs, Mortimer says learning of his father's death when he was about seven gave him fear of being abandoned, which subsequently became an over-eagerness to please.
But he tells host Lauren Laverne that at the time, he didn't realise how drastically his childhood was altered at the time.
'I just remember coming back home, being ushered away by policeman, not knowing what was happening,' he says. 'Thinking that it hadn't affected me at all, then later in my life realising it was probably the defining moment of my life really. It's kind of defined my personality.
'It's as simple as something so precious being taken from you. You can feel very insecure. Just to make sure people aren't going to abandon you.'
His comments echo those of Eddie Izzard, who has said that losing his mother when he was six was the driving force behind his life, saying: 'Everything I do in life is trying to get her back. I think if I do enough things… then maybe she will come back.'
Speaking on Radio 4 this morning, Mortimer also reveals: 'My shyness probably defined the first 30 years of my life really. It's a crippling thing, it can be very lonely, knowing that you've got things to say but can't say them. It's a terribly crippling thing for a youngster.'
He studied law at Sussex university, where he remained isolated, saying: 'Throughout my entire three years at Sussex I never spoke to another law student. I didn't meet anyone, I just sat in my room.'
Meeting Reeves – or Jim Moir to give him his real name – drew Mortimer out of his shell. He was a solicitor when he went to see Vic Reeves' Big Night Out at The Goldsmiths Tavern in South London, and was so blown away by what he saw he asked to be part of it.
'He was in a tiny room upstairs, with six or seven of his friends as the audience, and he was wearing a Bryan Ferry mask, tap dancing and making a high-pitched wailing. I started going every week
The 59-year-old star also spoke about his lifesaving triple bypass operation in 2015, and his return to the stage just three months later.
He reveals how he was nearly forced to abandon the show when his heart rate soared to dangerous levels after the energetic song-and-dance number that opened the show.
Medics had told him to stop the performance if he hit 153 beats per minute – but on stage at the Leeds Arena, the device showed a reading of more than 160.
'I had to decide at that moment do I stop? What do I do?' he recalls. 'But I carried on.'
He also credits the emotions of that night, overcoming the fear of performing again, with helping his recovery
'I am kind of really grateful to those 7,500 scary faces that night,' he says. 'When you've had a heart thing, a lot of the problems are psychological. So I thank you, the people of Leeds, who attended that show.
Mortimer chooses Vaughan William's Sea Symphony as one of his tracks to take on the fictional desert island, revealing it's what he and Reeves play before going out on stage together.
'It always gives me goosebumps. It is just the two of us, alone and scared stiff,' he said.
Another chosen record is the Squeeze song Some Fantastic Day, which he has asked Reeves to sing at his funeral.
The full interview airs on Radio 4 at 11.15am today.
Published: 3 Feb 2019
What do you think?