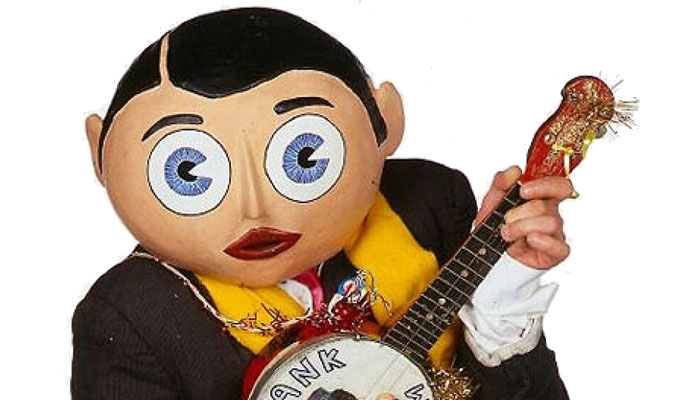 Frank Sidebottom movie gets a UK and US cinema release
Being Frank, the documentary about Frank Sidebottom and his creator Chris Sievey, has secured a cinema release in the UK and the US.
The movie, which was financed by crowdfunding, will be released in cinemas across the UK on March 29 – Brexit day – by Altitude Films.
Writing to backers, film-maker Steve Sullivan said there would also be a series of preview screenings around the UK before the release, including a launch at Home in Manchester, and possibly in Sievey's home town of Timperley, although details have not yet been announced.
The film will also be shown on January 27 at Belfast's Out To Lunch Arts Festival
Sullivan added: 'A national cinema release will help spread the word about the fantastic work of Frank Sidebottom and Chris Sievey far and wide. We want the film to play here, there and everywhere so people get to experience Chris's life and work on a big screen with an audience, like going to a Frank gig.'
He also revealed that – 'unbelievably' – the film has also severed a US film distributor, the indie Factory 25, which will be starting with a week-long run at Facets Cinematheque in Chicago from January 25.
Those appearing in the film include Johnny Vegas, Ross Noble, John Cooper Clarke, Mark Radcliffe and Jon Ronson, who was briefly in Sievey's band.
Ronson co-wrote the 2014 cult film Frank, loosely based on his experiences and starring Michael Fassbender as the man in the paper maché head.
In their description of Being Frank, Altitude Films says: 'The real character of Frank Sidebottom stalked Manchester's music and comedy scene for over 25 years and found nationwide fame on TV.
'But who really knew Chris Sievey, the fractured genius underneath the mask? Director Steve Sullivan pieces together Sievey's split personality through an extensive archive of personal notebooks, movies, art and music, alongside insights from his closest confidants. What he uncovers is an intimate portrait of a sensitive, tortured outsider artist, forever on the outside looking in.'
Published: 9 Jan 2019
What do you think?