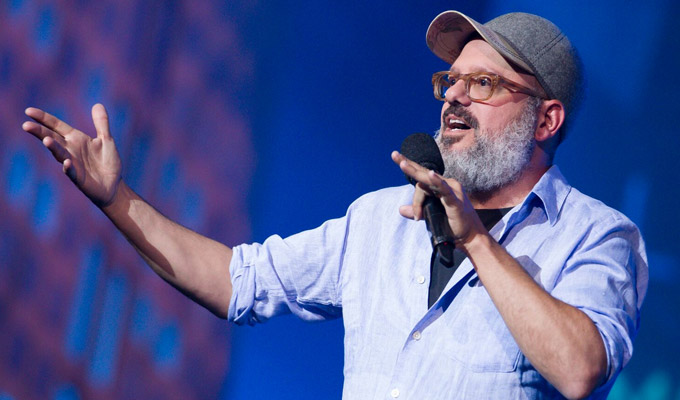 From David Cross to Chris Tucker
The week's best live comedy...
Sunday September 23
LONDON: There's a fine comedy gig at the Battersea Arts Centre tonight to celebrate the recent reopening of the Grand Hall, which was ravaged by fire in 2015. The Phoenix Comedy line-up boasts Angela Barnes, Ciaran Dowd, John Kearns, Phil Wang, Rose Matafeo and Ivo Graham
CANTERBURY: The Live At The Marlowe gig regularly brings the best of the new wave of comedy talent to Kent, and tonight's no exception with Mae Martin, Nina Conti, Rhys James and John Robins on the bill.
LIVERPOOL: To mark the start of the Labour conference, there's a fundraiser for the party at the Hot Water Comedy Club featuring fake MP Sir Ian Bowdler, the Theresa May Cabaret, musical comic Steve Gribbin and the delightful housewife superstar Barbara Nice.
Tuesday September 25
GLASGOW: After its three-week run in Salford, the hugely enjoyable stage version of Early Doors hits the road, starting with an engagement at the Armadillo. Click here for a review and here for the rest of the tour dates.
MANCHESTER: Star of Arrested Development and Mr Show, David Cross embarks on a brief UK tour… and you can be sure there will be some Donald Trump material that gets covered. He starts his Oh Come On dates at the Dancehouse Theatre (tickets), tonight before three nights at the Leicester Square Theatre in London, and one at Glasgow's Oran Mor then one at Vicar Street in Dublin.


LONDON: Winner of the top Barry Award at this year's Melbourne International Comedy Festival, and the comedians' choice of late-night shows at the Edinburgh Fringe, self-identifying 'wacko' Sam Campbell bring his wild oddball ride of a show The Trough to Soho Theatre for five nights. Read our review here. It's part of a great line-up at the venue this week that also includes Lou Sander's acclaimed Shame Pig kicking off tonight (Review) and the ongoing antics of Rose Matafeo's Horndog.
Thursday September 27
BIRMINGHAM: Rush Hour star Chris Tucker kicks off a brief six-gig stand-up tour of the UK at the Birmingham Arena - his first British shows since 2012, soon after he returned to stand-up after concentrating on movies. He's in Manchester tomorrow, Glasgow on Saturday and London on October 6. Tickets are available here.
LIVERPOOL: A very different sort of comedy to Tucker's, Robin Ince kicks off his latest tour, Chaos Of Delight, at the Royal Court Theatre, promising 'an artist's manifesto of delight and curiosity from bohemians to black holes, Dali to DNA. The dates are here.
LONDON: The Soho Theatre line-up gets even crazier from tonight as Aussie goofball Anne Edmonds brings her sozzled alter-ego Helen Bidou, supposedly a TV fashion expert, to town for three late nights of sloppy, salacious hysteria. Review.

NORWICH: Ahead of a full tour which kicks off proper in February, recent Taskmaster contestant and consistently ace comedian Mark Watson performs The Infinite Show at the Norwich Playhouse for three nights. Despite the title the running time is closer to 90 minutes…
Friday September 28
LONDON: The 99 Club at the Strand Palace Hotel is tonight given over to a night of Chinese comedians: Taskmaster's Phil Wang, Female Comedian of the Year 2017, Evelyn Mok, 2016 Amused Moose's Laugh Off winner Nigel Ng and poker player and winner of Dave's Funniest Joke of The Fringe 2017  Ken Cheng. See them before Trump slaps a tariff on the tickets…
Saturday September 29
LONDON: There's a strong and varied line-up at the Comedy Loft in Camden, with smart and mischievous Carey Marx, near-the-knuckle Diane Spencer, delightful Geordie storyteller Lauren Pattison, and the daft Rob Rouse, as seen on Upstart Crow.
LONDON: Arabs Are Not Funny is the provocative title of the international line-up at the Royal Albert Hall's Elgar Room tonight. France's Yacine Belhousse, Lebanese-American Janine Harouni, Tunisia's Marouen Mraihi, Mamoun Elagab, of Sudanese orifin, and Iraqi-British musical comedian, Talal Karkouti are all on the bill.
Published: 23 Sep 2018
What do you think?