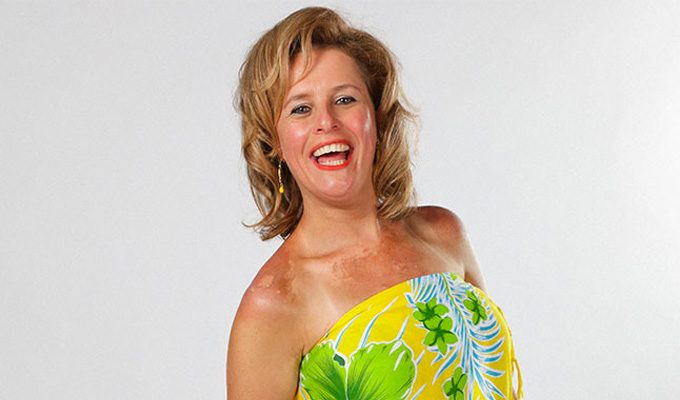 MICF: Helen Bidou - Enter The Spinnaker Lounge
Anne Edmonds cements her well-earned reputation as Australia's queen of the grotesque in this ribald and beguilingly sloppy late-night showcase for her unhinged TV fashion expert, Helen Bidou.
She is the epitome of vacuous daytime broadcasting, slapping on a phoney smile and engaging in empty 'chitty-chat' with a superficial bonhomie, trying to drown out the terrifying reality that her life is falling apart. More than just another two-dimensional TV spoof, Bidou is also a grand parody of middle-aged suburban fears, seeking redemption in pilates, and acutely aware of the terrifying and very real prospect of an empty life alone, after her Moone Ponds stud Simon has left her.
In her live show, sozzled on mojitos and draped in her trademark sarong, she indulges her delusions of being an all-round entertainer, belting out numbers with a cheesy, deranged grin that evokes the spirit of Bob Downe. She interviews a guest she clearly has no interest in and gives a brutally insulting fashion critique to one mortified member of the audience.
Edmonds' name is not on any of the publicity, despite the cachet it carries at this festival, yet Bidou has packed the Spinnaker Lounge with fans from her appearances on the faux ABC show Get Krack!n. The Bidou Army join in with the occasional catchphrase and throw themselves into the bawdy weekend spirit. But newcomers to this larger-than-life creation are almost certain to leave as new fans.
With her typical dedication to the stupid and the exaggerated, Edmonds totally occupies this outrageous monstrosity (despite accidentally introducing herself as 'Anne' at one point). In a smart bit of casting, deadpan comic Sam Campbell plays her son Connor, acting as DJ but awkward and unconfident in her shadow, creating a wonderfully cringe-inducing dynamic.
A hysterical creation in both senses of the word, Bidou creates a wild hurricane around herself, which it would be futile to resist.
Review date: 2 Apr 2018
Reviewed by: Steve Bennett
Reviewed at: Melbourne International Comedy Festival
Recent Reviews
What do you think?