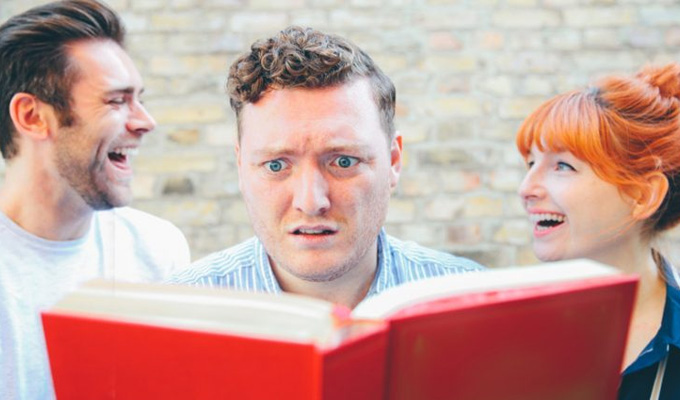 Porn fills the Royal Albert Hall
The best of the week's live comedy.
Monday June 18
LONDON: John-Luke Roberts had one of the funniest openings of last year's Fringe, taking to the stage in an indecently revealing toga in the guise of Geoffrey Chaucer, and speaking in medieval tongue. That's typical of the inspired absurdity that's shot right through Look on My Works, Ye Mighty, and Despair! (All in Caps) - which is at the Soho Theatre for the next three nights. Read our review here.
GLASGOW: The Flight Of The Conchords land at the Hydro tonight, as part of their rescheduled tour. Review.
Tuesday June 19
LONDON: At the 100 Club on Oxford Street. Simon Day's music hall raconteur Tommy Cockles introduces a bizarre varied bill worthy of the variety halls in their heyday. There's impressionist Lewis Macleod, crooner-cum-Fuhrer Frank Sanazi and the bonkers Tina T'urner Tea Lady.
Wednesday June 20
LONDON: Simon Munnery is joined by friends John Kearns, Nina Conti and Shenoah Allen at the Underbelly South Bank tonight. The latter are currently working a new double act, comprising a giant monkey and 'a man with no credentials' called Roy.
Thursday June 21
LONDON: Live versions of podcasts are nothing new, but the team behind My Dad Wrote A Porno take things to new levels tonight, with a performance at the 5,200-seat Royal Albert Hall. If you don't know by now, the show revolves around Jamie Morton reading extracts from his father's cringeworthy erotic fiction, Belinda Blinked, with his friends James Cooper and Alice Levine taking the piss. Here's our review of an earlier show.
CARDIGAN: It's comedy in an actual castle, what more could you want? Add the excellent Mark Steel to the atmospheric setting and you've got a memorable night of comedy. Tomorrow Ed Gamble and Lou Sanders perform there, with Glenn Moore and Matt Forde completing the short season on Saturday.
Friday June 22
LONDON: Comic and podcaster Jen Kirkman is back in London with SOME new material (her emphasis) since her Soho Theatre run earlier this year. She promises jokes about her emotional outburst on a silent retreat, the power of turning 43, how she was raised to think Jesus is mad at her, and what it's like living in America right now. She has two shows at the Leicester Square Theatre tonight.
BIRMINGHAM: A very decent bill at the Glee this weekend comprises the mischievously predatory camp of Craig Hill, slick observational comedy from Dominic Holland and Mark Maier, and droll storytelling from Matt Price.
Saturday June 23
LICHFIELD The Staffordshire town is hosting its first comedy festival, an all-day open air affair in Beacon Park. It takes place in three tranches, local comics for free from 10am to 4pm, a family show from 4pm to 7pm with the likes of Olaf Falafel and El Baldiniho, then an evening show from 7pm with Dane Baptiste, Harriet Dyer, Paul Sinha and Yianni Agisilaou. Tickets.
LONDON: It's the last Banana Cabaret for several months tonight as its home at the Bedford in Balham tonight closes for a a multi-million-pound refit. And they are bowing out in style with the brilliantly incisive Andrew Maxwell and politcally astute Ian Stone.
• Search our full listings for comedy near you using the pull-down menus on the left of this page..
Published: 17 Jun 2018
Recent News
What do you think?