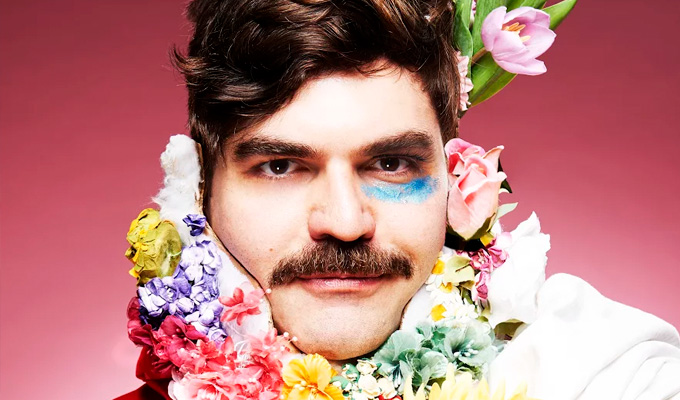 John-Luke Roberts: Look on My Works, Ye Mighty, And Despair! (All in Caps)
The one thing John-Luke Roberts wants from this show is for it to be thought 'significant' – although the absurdist sketches are at their strongest when they have no meaning at all.
His shows are typically anchored by big, stupid creations and this year is no exception thanks to his Geoffrey Chaucer, speaking in medieval tongue and barely able to keep his skimpy toga from exposing his genitals.
With his mixed up vowels, Chaucer is effectively Officer Crabtree from Allo Allo with an education – but it's undeniably funny, that mix of alleged erudition and shameless nudity. And more than a silly voice, the way Chaucer leads us towards words we can't figure out is hilarious.
Another hit is the lascivious Aussie Dupe, who likes to hear his own name being shouted in all manner of convoluted ways – which eventually gets him stuck in an infinite loop of call-and-response, kicking off one of the running jokes of the hour.
In truth, though, those recurring ideas aren't strong enough for their reappearance to be welcome, and nor does the imposition of that tongue-in-cheek quest to create great art really fire. It's like trying to impose order on the experimental Alternative Comedy Memorial Society, in which Roberts is a prime mover. But the skits work best when they are pure silliness.
There is plenty of that on offer here, from a quickfire bit in which Roberts essentially rummages through his dressing-up box to a harbinger of death informing various audience members of the precise cause of their demise.
That phoney quest for significance loosely binds all the nonsense together, culminating in the intervention of a giant floating head that holds the fate of the world in his… well, he doesn't really have hands, but that's the idea.
There are shades of Simon Munnery's League Against Tedium, here, with his haughty contempt for humanity, but without the direct oppression. And ultimately the funniest bit of the conclusion is Roberts' elaborate costume.
Roberts delivers surreal nonsense with a straight face, which constricts the silly joy, but his Chaucer alone is worth slipping a fiver in the bucket for.
Review date: 14 Aug 2017
Reviewed by: Steve Bennett
Recent Reviews
What do you think?