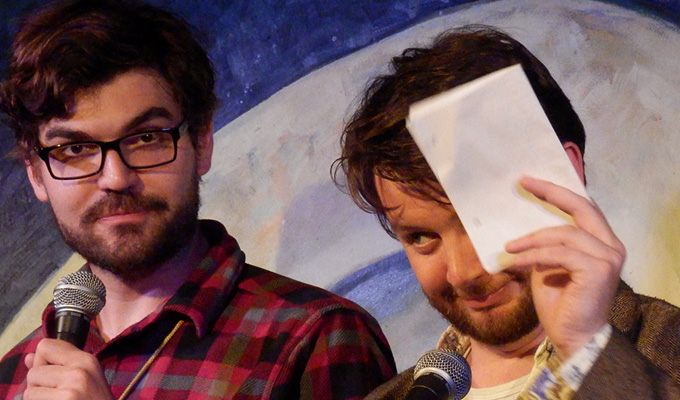 ACMS 2 DVD
It's a celebration of inventive comedy that's become a cult, with its overstuffed bills, 'permitted heckles' and you-had-to-be-there moments that would never work in a conventional comedy club.
Now the Alternative Comedy Memorial Society will be attempting to capture the inventive oddness of one of its live shows forever, by committing a gig to DVD.
Indie label Go Faster Stripe – which has released shows by the likes of Richard Herring, Simon Munnery and Robin Ince – is to record an ACMS show at The Bill Murray in London in July.
Founder Chris Evans said he decided to film the show after taping co-host John-Luke Roberts's solo show Look on My Works, Ye Mighty, And Despair in Cardiff earlier this year.
'We were having a pint and winding down when we started talking about ACMS and how similar I thought it might be to Cluub Zarathustra,' he told Chortle.
Cluub Zarathustra was the avant-garde comedy and cabaret collective of the mid-1990s, run by Munnery's League Against Tedium character as if it were a strict authoritarian regime. Members included Stewart Lee, Johnny Vegas Julian Barratt, Sally Phillips and Kevin Eldon.
Evans added: 'I said something like how I wished that Go Faster Stripe had been around was around to record one of the Zarathustra club nights. Everyone was quiet for a second before the idea arrived - we must film an ACMS.
'And so we are. Lord knows how it will turn out. I am excited and scared.'
The show will be taped on July 1 as part of a day of DVD recordings at the venue, including Thom Tuck Goes Straight To DVD from ACMS's other co-host, and Absurdity for Common People from ACMS regular Tony Law.
Tickets are available here.
Published: 29 May 2018
What do you think?