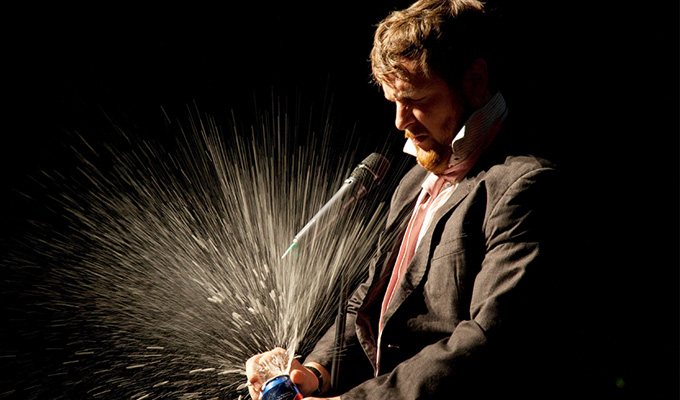 Radio 2 orders a raft of comedy pilots
Radio 2 has announced a range of new one-off comedy shows, featuring the likes of Johnny Vegas, Joe Thomas and Tim Key.
The programmes have all been commissioned to pilot new ideas that could be turned into TV shows – and will all air as part of a 'funny fortnight' starting on April 23.
Radio 2 head Lewis Carnie said: 'Comedy is an incredibly important part of Radio 2 and it's fantastic to have the opportunity to bring new comedy talent and ideas to Britain's most popular radio network.'
Here's the full list of what has been commissioned.
Jeremy Vine: Agony Uncle
A show that imagines the Radio 2 host as an agony uncle offering off-air advice to the world's great and good (and Donald Trump) during the moments when he is playing records. Lewis MacLeod plays Vine alongside fellow impressionists Jess Robinson and Terry Mynott. The show is a part-scripted, part-improvised spoof phone-in, written by former Now Show regular Jon Holmes with Cornelius Mendez and additional material by Alex Sievewright.
Dog Days
Set around the lives of a group of dog walkers. Gwyneth Powell from Grange Hill and Man Down tolerates her daily interaction with Alan (John Henshaw from Early Doors), who's struggling with retirement. The sitcom also star Joel Fry from Plebs as Tatts, who runs a military fitness class, Johnny Vegas, as Gar, who feels life keeps dealing him a bad hand and Tanya Franks from Chewing Gum as Lis, who will do anything to make a quick buck. It is written by Paul Coleman – who co-wrote Peter Kay's Car Share.
The Taylors
As Chortle has previously reported, EastEnders star Shane Richie plays the head of a fun-loving nouveau riche family who have moved to a middle-class neighbourhood. The comedy also stars Hannah Waddingham, Jack Bence, Nicholas Burns, Ella Kenion and Kirsty J Curtis and is written by Two Doors Down creator Simon Carlyle.
Proposal
A sitcom starring Joe Thomas from The Inbetweeners and former Doctor Who assistant Pearl Mackie and written by Ben Ashenden and Alex Owen, otherwise known as sketch duo The Pin. It follows a couple as Jamie builds up the nerve to pop the question to girlfriend Lucy - and the series of disasters that follow as he attempts to negotiate the unwritten rules of marriage proposals.Nigel Lindsay plays Lucy's dad, Mike and the writers play Jamie's best friends. It also stars Adjoa Andoh, Brett Goldstein, Alice Orr-Ewing, Colin Salmon, and Sophie Wu.
The World According To Harry Priest
Bradley Walsh plays Harry Priest, a stickler for the riles who is signed off as long-term sick after losing his job and his wife and living with his permanently drunk mother-in-law Genie, two daughters and their partners. The sitcom also stars Sherrie Hewson, Kerry Howard, Rebecca Humphries and Tom Stourton and was created by SunTrap writer Neil Webster.
Le Marie
Le Maire follows Harriet (Rosie Cavaliero), a potential candidate for the role of Mayor of Rachelais; the small village that she and her husband Roy (Tim Key) have settled in after emigrating to France. However, on the eve of the vote, her irresponsible brother Ed comes crashing into their lives. Jonny Sweet wrote the script, and plays Ed.
What If...?
A new panel show, hosted by Sara Cox, and previously r reported by Chortle, in which guests ponder definitive moments in pop culture history and consider what if events had taken a different turn. Guests in the pilot include stand-up Grainne Maguire.
One Night Only
An entertainment show in which celebrities and comedians compete to be the star of a spectacular musical finale. They are mentored by Pippa Evans on how to sing hits from the musicals alongside some fabulous new compositions from Richie Webb (Horrible Histories).
Celebrity Lipservice
A sketch show featuring an ensemble of Britain's up–and-coming impressionists, although the line-up has not yet been announced.
Am I Weird?
The host – who has yet to be named – and the audience decide on whether the behaviour of a celebrity guest is odd or normal.
Censored
Another previously reported show in which Julian Clary bleeps clips while guests – Dane Baptiste, Rachel Parris and Arlene Phillips in the pilot - try to figure out the missing words.
Josh Widdicombe Will Make Your Life Better

Again as previously reported, comedians and celebrities come up with life hacks, innovations, and inventions, which Widdicome puts to the test.
Published: 23 Mar 2018
What do you think?