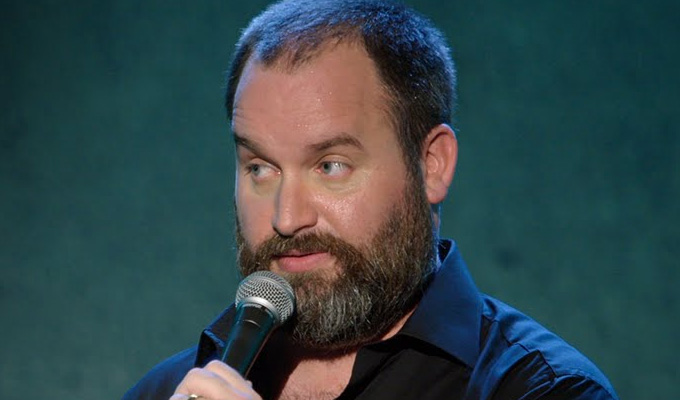 Netflix comic accused of 'hate speech'
Netflix are facing demands to censor a new comedy special because it uses the word 'retarded'.
Protesters say Tom Segura's use of the word amounts to 'hate speech' against people with Down's Syndrome.
More than 40,000 people have signed a petition calling on the on-demand service to remove the routine and issue a public apology for 'perpetuating hate speech'.
In his new special, Disgraceful, Segura argues for his right to say: 'That's retarded' as a euphemism for dumb.
He says: 'I don't really support the arguments against it' – claiming that modern usage is detached from slurring people with a disability.
'You didn't say it like that. You said it to describe an idea, or a situation, you know? If your friend was like, "I'll pick you up at your house, and then we'll come back to my place, and later we can go back to your house. And we can get your bags. And then, we'll come back over here after that." And you're like, "That's retarded. Why the fuck would we do that?"
'But now you can't say that. Now you've gotta be like, "That's not… smart. Your idea has an extra 21st chromosome, if you ask me." It's not the same.'
Down's Syndrome is usually caused by a copy of chromosome 21, or part of it, in a person's cells.
Among those campaigning against the comedian arise the Canadian Down Syndrome Society, which says: 'This language is offensive and disrespectful.'
Campaigner Alana Gersky said: 'By using that word on TV you are setting a terrible example. You should be saying that it is OK to have Down syndrome. There is nothing wrong with having an extra chromosome. We all have the same rights as anyone else. It is okay to be different.'
And Alyse Biro, from Indiana, told her local Fox TV station: ' In 2010, the word 'retarded' was removed from medical lingo, so it is a hate speech thing. It's not a politically correct issue. It's hate speech.'
Segura appeared to revel in the controversy, posting on Instagram: 'Hey Netflix please don't take my special down. That'd be so retarded.'
In his special, the comic makes similar comments about whether he can use the words 'midget' or 'gay' and, in a clip Netflix released as a trailer, argues that some disabilities are funny.
Segura also angered Cajun people by saying in the same special: 'They're living among us like they are one of us and they're not. Why do they have rights?'
In November, Barry Castagnola apologised for making a joke comparing himself to 'Daniel Craig with Down's Syndrome' while supporting Greg Davies on tour. And Frankie Boyle, Doug Stanhope and Ricky Gervais have also previously landed in hot water by making jokes about the condition.
Published: 24 Jan 2018
Recent News
What do you think?