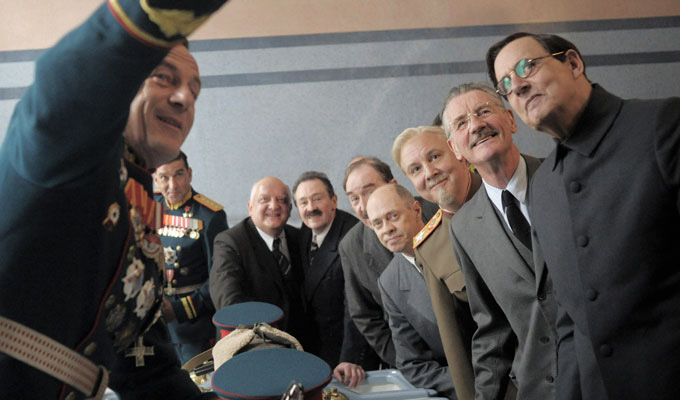 Russia pulls Death of Stalin
The Russian premiere of Death of Stalin has reportedly been called off, after outraging some government figures.
According to the country's State-run news agency RIA Novosti, the culture ministry withdrew the distribution licence for Armando Iannucci's satire at the last minute. It had been due to launch on Thursday.
Cultural and political figures had lobbied minister Vladimir Medinsky to suspend the certificate, claiming the film 'contains information that can be regarded as extremist, aimed at humiliating human dignity'.
After watching a private screening of the film, 22 signatories – including film directors and historians – wrote an open letter calling for the ban.
They said: 'Not only is this a work with very poor actors and a careless and untruthful backdrop, the film is also a libel on the history of our country, an evil and absolutely inappropriate alleged "comedy" that demonises the memory of our citizens who defeated fascism.'
The also complained about the trailer for the film, which used 'obscene expressions and actions' to play the National Anthem.
Nadezhda Usmanova, the head of the Russian Military Historical Society, told Reuters the film was 'despicable', adding: 'It's a bad film, it's a boring film, and it's vile, repugnant and insulting.'
It has been reported that the release may be put back until the summer, to avoid clashing with the 75th anniversary of the end of the Battle of Stalingrad.
Some members of the Communist party first raised concerns about the film in October, claiming the film was unfair on Stalin, whose regime was responsible for an estimated 20 million deaths in labour camps, forced collectivisation, famine and executions.
Spokesman Alexander Yushchenko called the movie an 'abomination' although Vladimir Putin's office insisted at the time that it shouldn't raise any eyebrows.
The Death Of Stalin stars Steve Buscemi as Nikita Khrushchev, Michael Palin as Soviet diplomat Vyacheslav Molotov and Jeffrey Tambor as Georgy Malenkov, who briefly succeeded Stalin. Paul Whitehouse, Justin Edwards, Simon Russell Beale, Paddy Considine and Andrea Riseborough are also among the cast.
Published: 23 Jan 2018
Recent News
What do you think?