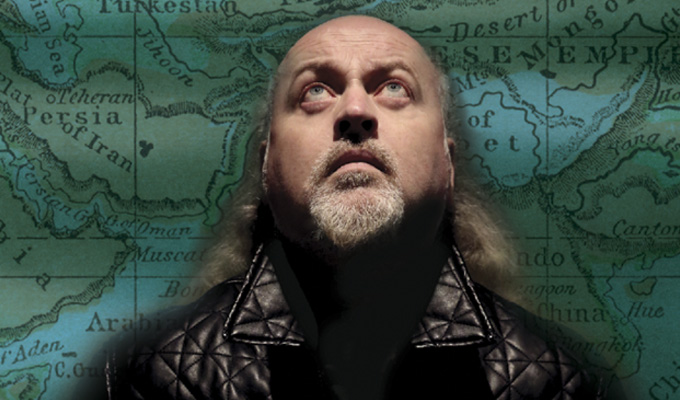 Enjoy a Bailey's at Christmas
The best of the forthcoming live comedy gigs, over this quiet period, interrupted only by the madness of New Year's Eve...
Wednesday 27 December
LONDON: Bill Bailey hosts a special festive version of his forthcoming tour show Larks In Transit. Christmas Larks! Is at the O2 Shepherds Bush Empire until Saturday.
GRANTHAM: Stir yourself out your post-Christmas slump for a line-up at the Guildhall that includes professional smartypants Paul Sinha and copper-turned-comedian Alfie Moore.
LIMERICK: A hometown gig for the Rubberbandits, as the outlandish plastic-bag-clad rappers play Dolan's tonight.
Thursday December 28
LONDON: Sinha's also on at the Comedy Store this weekend, alongside comic's comic Adam Bloom, stand-up stalwart Ben Norris, ace storyteller Carl Donnelly and raucous Mandy Knight
Friday December 29
LONDON: Impressive improvised musical Showstoppers! are staging a couple of kids' shows at Christmas At Leicester Square today and tomorrow – expect a witty epic with plenty of toe-tapping tunes, all created on the fly. At 1.30pm today and tomorrow, and also 11.30am tomorrow.
Wednesday January 3
LONDON: Starting at Soho Theatre tonight is a double-bill of the joint best newcomer winners from last year's Melbourne International Comedy Festival, Angus Gordon and Aaron Chen, both of which have a definite 'anti-comedy' sentiment. Here are our reviews of their shows from Oz: Gordon and Chen. They are at Soho til the 12th, then have a gig at the Rose Theatre in Edinburgh on the 14th.
• Search our full listings for comedy near you using the pull-down menus on the left of this page.
Published: 24 Dec 2017
What do you think?