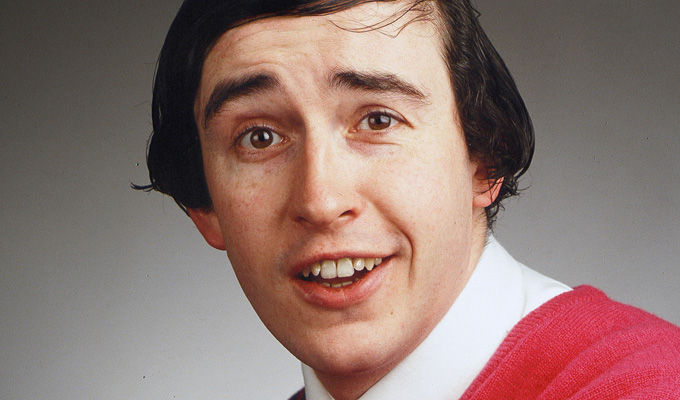 A Partridge for Christmas
The best of the week's comedy on TV and radio…
Sunday December 24
RATBURGER: David Walliams stars as the owner of a fast-food van with a gruesome recipe in this adaptation of his own children's novel. Sky One, 6pm
TROLLIED: John Thomson joins Sky's supermarket-set sitcom for an hour-long Christmas special. As the festivities kick off, a team of low level criminals headed up by none other than Valco's new star employee Tim (Thomson) have their sights set on the takings, holding the staff hostage in the canteen Sky One, 9.30pm
Monday December 25
300 YEARS OF FRENCH AND SAUNDERS: The national treasures return for their first TV show together in 10 years for what's essentially a clip show, but also includes new material, greatest hits, rarities and never-before-seen footage from their long career together. Click here for their not-entirely-serious thoughts on the reunion. BBC One, 10.35pm.
UPSTART CROW: A Christmas special for Ben Elton's Shakespearean comedy, featuring Emma Thompson guest starring as Queen Elizabeth and begging the question whether she could ever compete with Blackadder II's Miranda Richardson. As Will (David Mitchell) is working on his latest play for Her Majesty's pleasure, the Shakespeares are planning a cosy Christmas up in Stratford with just the family… until Kit (Tim Downie), Kate (Gemma Whelan) and Robert Green (Mark Heap) all wind up joining them. BBC Two, 8.25pm.
COUNT ARTHUR STRONG'S RADIO SHOW! In this year's Christmas special, the befuddled old thespian gets the opportunity to audition for a Christmas production of Bedknobs And Broomsticks. What could possibly go wrong? Radio 4, 1.15pm
JUST A MINUTE: 50 YEARS IN 28 MINUTES: A special mash-up edition to mark the show's anniversary means modern players such as Sue Perkins play alongside all-time icons like Kenneth Williams. Radio 4, 6.30pm
Tuesday December 26
TWO DOORS DOWN: A Christmas special for BBC Two's suburban Scottish comedy sees Beth and Eric Baird's dreams of a peaceful holiday thwarted by the antics of their demanding neighbours. Kieran Hodgson joins a cast that also includes Arabella Weir, Elaine C Smith, Doon Mackichan and Jonathan Watson. BBC Two, 10.30pm.
BIG FAT QUIZ OF THE YEAR 2017: Quizmaster Jimmy Carr tests a panel of celebrities featuring Richard Ayoade, Noel Fielding, David Mitchell, grime MC Big Narstie, Katherine Ryan and Roisin Conaty. Channel 4, 9pm
Wednesday December 27
ALAN PARTRIDGE: WHY, WHERE, WHEN, HOW AND WHOM? Foreshadowing the hapless presenter's return to the BBC next year is this hour-long special looking at the origins and evolution of the perfectly damaged character. Interviews include Steve Coogan, of course, as well as the acclaimed team that created him 25 years ago: Armando Iannucci, Patrick Marber, Peter Baynham, Rebecca Front, David Schneider and Doon Mackichan. There's also never-before-seen archive footage, including improv sessions, rehearsals and unseen outtakes BBC Two, 9pm
LIFE ON EGG: Harry Hill returns as the governor of a remote island prison in a new four-part series, following two episodes almost a year ago. In this episode, famous movie star Brad De Deprrio comes to visit to research a film role. Radio 4, 11pm
MIRANDA DOES CHRISTMAS: In this one-off special Miranda Hart, fresh from presenting the Royal Variety Performance, hosts a big festive special to spread Christmas joy, alongside David Tennant, Sam Smith and Prue Leith. Channel 4, 9pm
Friday December 29
TIM VINE TRAVELS THROUGH TIME CHRISTMAS SPECIAL: After a pilot earlier this year, the pun-lovin' idiot returns for another family-friendly adventure, this time set in Tudor England, arriving in the court of Henry VIII just as the Christmas celebrations are getting underway. Former Spice Girl Emma Bunton guest stars alongside a cast that includes Sally Phillips, Danny John Jules, Reverend Richard Coles, Spencer Jones, Mandeep Dhillon, Marek Larwood and John Archer. BBC One, 7.30pm
VIC & BOB'S BIG NIGHT OUT:. Vic Reeves and Bob Mortimer return with the silly and surreal mucking about that made them stars in the first place. Novelty Island is open for business once again, Matt Lucas makes a brief appearance and Mel Gibson, Rod Stewart and Idris Elba appear as you've never seen them before. The good news is that there will be four new episodes in 2018 – though inexplicably hidden away on BBC Four.BBC Two, 9pm
ERIC, ERNIE & ME: A comedy-drama about Eddie Braben, the writer who made Morecambe and Wise into the comedy icons who'd top the ratings every Christmas… and the toll such expectations placed on him. Stephen Tompkinson plays the Livepudlian former market trader, with Mark Bonnar and Neil Maskell as Eric and Ern. BBC Four, 9pm. And as a warm-up, you can watch rare footage of Morecambe and Wise away from the spotlight (as well as some early appearances in it) in Eric & Ernie's Home Movies, on BBC Two at 8pm.
THE FAKE NEWS WITH TED NELMS: This new US import features satirical news stories based on fake news. Comedy Central, 11pm
Saturday December 30
RUSSELL BRAND: MESSIAH COMPLEX: Brand's stand-up show, recorded at the Hammersmith Apollo in 2013, explores the values of leaders and heroes, commercial exploitation and the cult of personality… and he should know about that. Comedy Central, 10pm
ANT & DEC'S SATURDAY NIGHT TAKEAWAY PRESENTS... WHO SHOT SIMON COWELL: The comedy caper from Ant & Dec's Saturday Night Takeaway has been cut together as a half hour standalone episode. When Simon Cowell is shot at his celebrity-filled birthday party, Ant & Dec are accused of the crime and forced to go on the run... ITV, 6.30pm
Published: 24 Dec 2017
What do you think?