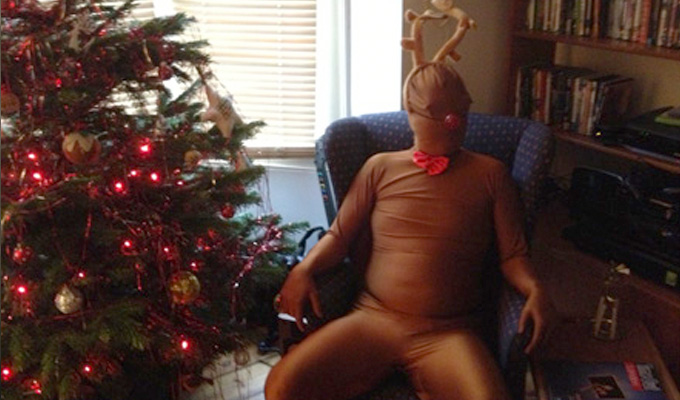 A very Kitson Christmas
The week's best live comedy.
Sunday November 26
GLASGOW: Hosted by Love Island's Iain Stirling, it's the final of the Scottish Comedian Of The Year at the Rotunda tonight. This year's finalistso include two former winners: Rosco McLelland and Jamie Dalgleish, alongside Leo Kearse, Stuart McPherson, Donald Alexander, Kirsty Morrison, Marc Jennings, Stephen Buchanan , Ross Leslie, and Frenchman Sébastien Dall'Ozzo
Monday November 27
LONDON: There's a strong line-up of comedians with Irish heritage at the Union Chapel tonight for the annual fundraiser for London-based Irish homeless charity Aisling. Tommy Tiernan, Ardal O'Hanlon, John Moloney, Kevin Gildea and Michael Legge provide the craic.
LONDON: Australian Steen Raskopoulos starts a week-long run of his interactive sketch show The Coolest Kid in Competitive Chess at the Soho Theatre. There is audience participation, but it's playful,as the acclaimed comic unveils a new set of characters weaved around a narrative.
Tuesday November 28
LONDON: Gaulier-trained clown Elf Lyons brings her ludicrous attempt to stage a one-woman version of Tchaikovsky's Swan Lake to the Soho Theatre for a five-night run.The shenanigans, partly in English and partly in GCSE French, won her a nomination at the Edinburgh Comedy Awards this summer.
Wednesday November 29
LONDON: Provocative Chris McGlade is a breath of fresh air on the circuit, offering outspoken political comedy from a Northern working-class perspective rarely heard on the metropolitan liberal scene. For once, it's not satire that relies on everyone having the same opinion – as an audience you can be challenged, and you can disagree with him. But one thing about which there's no debate is his phenomenal performance of a fierce and funny show, which is at the Leicester Square Theatre for one night only.
Thursday November 30
LONDON: Alan Carr heads a formidable bill for The Zoological Society of London's annual Roar with Laughter fundraiser for big cat conservation. The pride comics at the Eventim Apollo also includes Katherine Ryan, Sara Pascoe, Stephen K Amos, Terry Alderton and Rob Deering. Tickets.
Friday December 1
MARGATE: Daniel Kitson kicks off a tour of A Show For Christmas… and unlike most of his offerings the title does a lot of the explanatory work. It's a magical and festive storytelling show about a middle-aged woman driving home for Christmas, accompanied by a mysterious pensioner. Over course of the journey through treacherous weather and grinding traffic, the pair argue and ultimately bond over a series of barbed, often hilarious exchanges. Here is our review from its first outing at the Battersea Arts Centre a couple of years ago, and here are the tour dates.
CAMBRIDGE: Ought-to-be-mega-famous Andrew Maxwell heads an impressive line-up at the junction, with wing men Ben Van Der Velde, Tez Ilyas and Tom Ward ensuring a strong night out.
KNARESBOROUGH: In an eclectic bill, the Frazer Theatre hosts thought-provoking Brendon Burns, assured self-deprecation – if that's not an oxymoron – from Jonny Pelham, the dry, wry puns of Glenn Moore, and reigning So You Think You're Funny? champ Maisie Adam
Saturday December 2
BRISTOL: Are you gruesome tonight. Rob Kemp brings mash-up of Elvis songs and the Evil Dead movie to the Cube Cinema. It's a deserved cult hit.
• Search our full listings for comedy near you using the pull-down menus on the left of this page.
Published: 26 Nov 2017
What do you think?