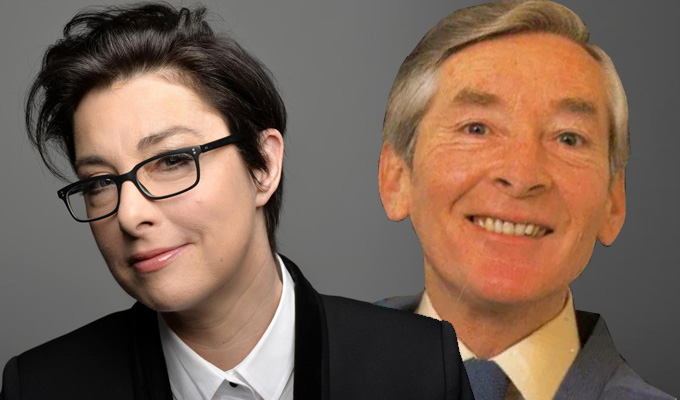 Together at last: Sue Perkins and Kenneth Williams
Comedians from across the decades are to face up to each other in a mash-up edition of Just A Minute marking he panel show's 50th anniversary.
Clips from the Radio 4 game's long history are to be edited together so, for example, Sue Perkins could face Kenneth Williams in the same round.
Comedy writer Gareth Gwynn has spliced together the footage for a one-off show, provisionally titled 50 Years In 28 Minutes, which will air at 6.30pm on Christmas Day.
To further mark the show's golden anniversary, Paul Merton will interview chairman Nicholas Parsons about his long career in a 45-minute show at 6.15pm on New Year's Day.
A former dockyard apprentice, Parsons started in showbusiness in 1945, encompassing the golden age of British cinema in the 50s and 60s, the seedy glamour of the Windmill Theatre, his double act with Arthur Haynes, appearing alongside Rik Mayall and Adrian Edmondson, and guest starring in Doctor Who – as well as his role on Just A Minute, and the TV game show Sale Of The Century
He will also be shortly be heard as the voice of God in a TV adaptation of Neil Gaiman and Terry Pratchett's Good Omens.
The shows were announced at a press launch for BBC radio's Christmas programming in London tonight.
Other comedy highlights include:
• The return of 15-Minute Musicals with The Legend Of Holy Superior Mother Theresa May And The Magic Money Tree and Dud Brothers – a separated-at-birth story about Jeremy Corbyn and Jacob Rees-Mogg. Radio 4, Christmas Day and Boxing Day, 6.15pm
• As Chortle previously reported, Count Arthur Strong's Radio Show! returns to BBC Radio 4 with a celebratory Christmas special, which will air at 1.15pm on Christmas Day
• Comedy writers Jason Hazeley and Joel Morris, creators of the modern-day Ladybird Books, presenting a documentary about 'toilet books' entitled Are You Alright In There? Radio 4, December 22, 11.30am
• Ed Byrne making his debut as a 5 Live presenter from 10am to midday on Christmas Day
• Motherland co-creator Sharon Horgan curating 6 Music's output on Boxing Day night from 6pm to 2am
• A run of stand-up comedy shows on Asian Network at 9pm from December 26 to 29
• Guz Khan and Bad Boy Billy giving the Nativity story an irreverent 'Roadman' treatment on the BBC Asian Network. December 24, 1pm
• A Christmas special of Infinite Monkey Cage, looking at the science behind magic tricks, Radio 4, Christmas Day, 4pm
• Two Christmas special of impressions show Dead Ringers. Radio 4, December 22 and 29, 6.30pm
• Michael Palin͛'s Radio Adventures – a three-hour archive show covering everything from his comedy to his travels, interspersed with an interview recorded in front an enthusiastic audience and featuring contributions from comedians Barry Cryer and John Finnemore. Radio 4 Extra December 23, 9am
Published: 22 Nov 2017
What do you think?