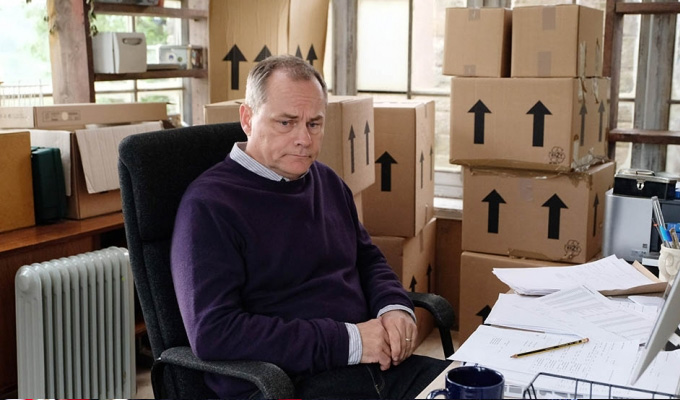 More 'Bad Moves' for ITV
ITV has ordered a second series of Jack Dee's comedy Bad Move.
Six new episodes will air in 2018, with the key cast all returning.
Dee – who created the show with long-term writing partner Pete Sinclair – and Kerry Godliman play a married couple who decided that moving to the countryside from the city is the answer to all their dreams.
Also returning series two will be Miles Jupp and Manjinder Virk as their neighbours; Seann Walsh as rock star Grizzo, Philip Jackson as father-in-law Ken and Sue Vincent as shopkeeper and Shannon.
The series launched in September with strong ratings. The first episode was seen by 4.3million viewers at 8pm on Wednesday night, rising to 4.9 million when on-demand viewing was added. This made it the highest viewed comedy show on television that week. Overall, the series averaged more than 4 million viewers per episode.
However, critics were less impressed, with two-star reviews from The Times ('too gentle') and The Daily Telegraph ('an all-too-apt title'). The Daily Star called it 'useless', but the i said 'Dee is still the master of slipping in pin-sharp lines of his trademark black humour'. Read Chortle's review of the opening episode here.
Dee said: 'I'm naturally delighted that I'll be working again with the brilliant Bad Move cast. The show has clearly struck a chord with a great many viewers and we are very much looking forward to dumping more country life problems on Nicky and Steve in series 2.'
ITV's comedy commissioner Saskia Schuster, who commissioned the second series, added: 'We'll be seeing a lot more of Steve's unguarded responses to daily small-scale irritations, which will, of course, escalate to become his and Nicky's undoing.'
The show is made by Open Mike Productions, which Dee co-owns.
Published: 7 Nov 2017
Recent News
What do you think?