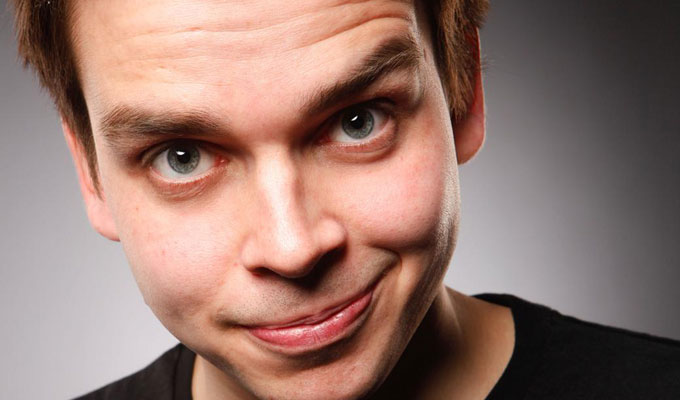 The wizardry of Joz
This week's best comedy shows on demand.
Joz Norris: The Incredible Joz Norris Locks Himself Inside His Own Show, Then Escapes, Against All the Odds!!
The jaunty, absurd idiot's last Edinburgh show lands on stand-up on demand service NextUp. And you might think that the title is some sort of artistic metaphor... but no, he actually creates a web of string that keeps him on stage. Recorded at the Hive at the Fringe, it features bad biography, a mewling baby, a poignant bit and some Dvorak. Watch here if you're a subscriber.
What We Do In The Shadows
Last Sunday BBC Two aired this 2014 vampire mockumentary film from New Zealand – which means it's on iPlayer now.
Written by, starring and directed by Flight Of The Conchords' Jemaine Clement with his long-time collaborator Taiki Waititi, What We Do In The Shadows is about flatmates Viago, Deacon and Vladislav are three vampires who are just trying to get by in modern society; from paying rent, doing the housework to trying to get invited in to nightclubs. They're just like anyone else - except they're immortal and must feast on human blood.
Judah Friedlander: America Is the Greatest Country in the United States
This week's Netflix stand-up special comes from the self-proclaimed world champion Judah Friedlander. With his usual ironic arrogance, he explains why America is No. 1. Unusually, it was shot in black and white on consumer cameras at various 15-minute spots in comedy clubs – rather than the big production number of most specials. Watch here.
The Worst Writer in the World
A new comedy storytelling podcast in which Rufus Penzance _ an English teacher with a degree in literature - attempts to read everything that Howard Long - 'an unemployed idiot' wrote as a youngster. As plot holes and inconsistencies are exposed, Howard is made to feel increasingly embarrassed… Listen to episode 1 here.
Published: 4 Nov 2017
What do you think?