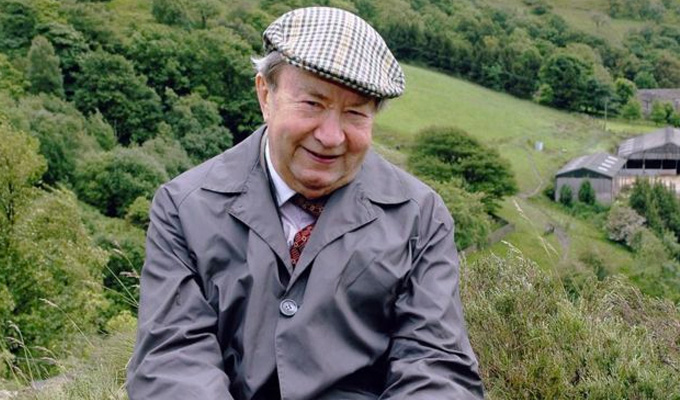 Peter Sallis dies at 96
Peter Sallis, the star of Last of the Summer Wine and the voice of Wallace, has died at the age of 96.
His agent confirmed he died peacefully with his family by his side.
Sallis played Norman Clegg in Last of the Summer Wine from its 1973 pilot episode until its swan song in 2010, making him the only actor to appear in all 295 episodes.
It came after a career as a character actor on the London stage in the 1950s and 1960s. His credits include the first West End production of Cabaret opposite Judi Dench in 1968. He also appeared in many British films of the 1960s and 1970s including Saturday Night and Sunday Morning, Doctor in Love and Taste the Blood of Dracula.
And Sallis achieved international success in 1989, when he voiced Wallace, the eccentric inventor, in Wallace and Gromit: A Grand Day Out. This film won a Bafta award and was followed by the Oscar-winning films The Wrong Trousers in 1993 and A Close Shave in 1995.
Wallace and Gromit animator Nick Park, said: 'I'm so sad, but feel so grateful and privileged to have known and worked with Peter over so many years. He was always my first and only choice for Wallace.
'He brought his unique gift and humour to all that he did, and encapsulated the very British art of the droll and understated.
'Working with Peter was always a delight and I will miss his wry, unpredictable humour and silliness - that started the moment he greeted you at the door, and didn't stop when the mic was switched off.'
Among others paying tribute were movie director Edgar Wright, who tweeted: 'Farewell Peter Sallis, warm and funny in Last Of The Summer Wine and just pure magic as the voice of Wallis in the Aardman animations.'
Allo Allo actress Vicki Michelle tweeted: 'Sad to hear about Peter Sallis. Fabulous actor loved by the nation... Somehow ageless, a lovely man.'
And journalist Quentin Letts said: 'Peter Sallis had the most gorgeously restful voice - tones that made you think of carpet slippers. One of the best voices in British acting.
In 2006, Sallis published an autobiography entitled Fading into the Limelight. Reviewer Roger Lewis said: 'Though Sallis is seemingly submissive, he has a sly wit and sharp intelligence that make this book a total delight.' It was rereleased as Summer Wine And Other Stories in 2014.
He had retired from acting, and had not appeared on film or television since 2010, when he provided the voice for Wallace in the TV show Wallace and Gromit's World of Invention. After Sallis retired from the role, he passed the voice of Wallace to Ben Whitehead.
Sallis was awarded the OBE in the 2007 Birthday Honours for services to drama.
He had been suffering from macular degeneration, and in 2014 Park said that Sallis is 'not too well' with worsening eyesight.
Sallis died on Friday at Denville Hall retirement home for actors in Northwood, north west London, where Fawlty Towers actor Andrew Sachs also died last year.
Published: 5 Jun 2017
Recent News
What do you think?