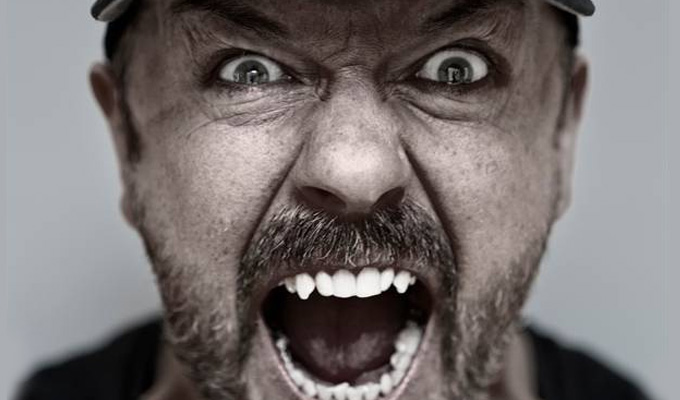 Ricky Gervais announces new stand-up dates
Ricky Gervais has announced a new batch of dates for Humanity, his first stand-up tour in seven years. 
The comic had already announced some UK dates this month and next,which have already sold out.
Now he is adding 14 UK dates, including four nights at London's Hammersmith Apollo this October, and one Dublin gig.
He will also be performing it in New York, LA, Chicago, Reykjavik, Stockholm, Amsterdam and Copenhagen – plus his first ever Canadian date in Toronto's Massey Hall.
Gervais said: 'Thousands of people paying hard earned cash to come and see you live is such a privilege. You'd better have something different, interesting and funny to say. Humanity is my angriest, most honest and I think my best tour yet. It's probably my most personal too. I feel I may as well tell you everything before I die. Hope you enjoy it. Or not. There are no refunds. Just like life, I guess.' 
The comic will appear on Graham Norton's BBC One show tonight to plug the tour.
Speaking of the seven-year gap since the last one, he said: 'It just gets pushed back – I have been busy with other things like Derek and The Muppets so I have now put a year aside for the tour.'
He added: 'It's more honest than before – I just walk out and start talking. It's organic and confessional. You could spend a year writing it but it would be worthless. I can change it every night – it's like natural selection and evolution with the audience picking the best hour. If they laugh it stays, if they don't it goes. After 50 gigs it works.'
The new dates go on sale next Friday, February 24.
They are:
April 3: Sheffield City Hall
April 11: Portsmouth Guildhall
April 20: Reykjavik Harpa Hall
April 25: Plymouth Pavilion
May 2: Glasgow Clyde Auditorium
May 9: Brighton Centre
May 21: Theatre At Maddison Square Garden
May 24: Chicago Theatre
June 5: Newcastle City Hall
June 8: Edinburgh Playhouse
June 13: Oxford New Theatre
June 18: Southampton Mayflower
June 24: Dublin 3 Arena
June 28: Birmingham Barclaycard Arena
July 1: Stockholm Ericsonn Globe Arena
July 14: Toronto, Canada
September 8: Afas Live Amsterdam
September 29: Copenhagen Royal Arena
October 4-7 Hammersmith Apollo
October 28: Los Angelese Dolby Theatre
Published: 17 Feb 2017
What do you think?