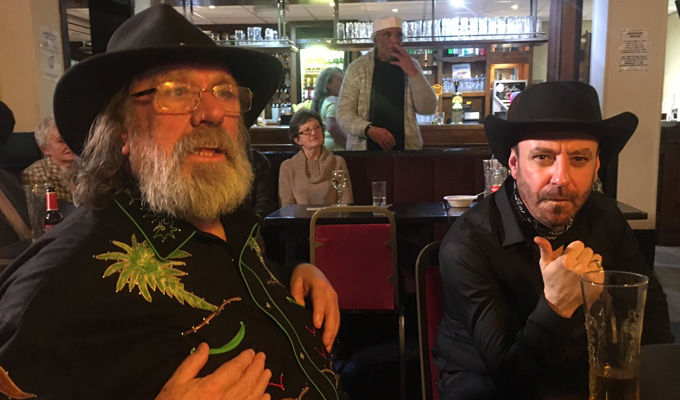 Johnny Vegas and Ricky Tomlinson shoot comedy pilot
Johnny Vegas and Ricky Tomlinson are shooting a comedy pilot.
Tomo, Dick and Harry is about a group of working-class builders who spend their nights in pubs and clubs, and marks the television writing debut of The Royle Family star.
Vegas plays Harry, a pub glass collector and guitar-playing busker, while Tomlinson, himself a former plasterer, is Tomo, a club night compere. Dick is played by Shameless's Gary Cargill.
Comedian Mick Miller and Only Fools and Horses's Paul Barber also feature in the taster, which is the second time the idea has been piloted after the BBC shelved plans for a series more than 13 years ago.
Former boxer and rugby league player-turned-actor Adam Fogerty also has a role, with American actress Jennifer Bryer playing Dick's girlfriend, Elvira.
Filming began this week in Liverpool and will finish today.
A source on set told Chortle: 'I so hope that Ricky can get this picked up because he's been trying to make it for ages.'
Last month, Tomlinson told the Metro that the corporation had 'shot a pilot and ordered other scripts to be written and then cancelled it.
'The BBC told me they loved it, gave me development money, we wrote 12 episodes and the whole thing got cancelled. So now we're doing a pilot ourselves and we're taking it around. I think we could do with more comedy drama on TV.'
Writing in his 2003 autobiography, Tomlinson described Tomo, Dick and Harry's premise as being 'about three guys who do a bit of plastering and building during the day and spend their nights in pubs and clubs'.
Vegas tweeted photos of the cast in country and western shirts and wrote: 'Now it's off to Liverpool to mess about on set with that auld rascal Ricky Tomlinson & funny former Dad in #IDEAL Mick Miller #nicelynicely'
It's Ricky's round & yes @GaryCargillx his wallet's in his other Country and Western rhinestone palm tree encrusted shirt pocket, again ;) pic.twitter.com/sBOWcPpOx8

— Johnny Vegas (@JohnnyVegasReal) February 2, 2017
Hey, whoa hang on there padre, Paul Barber and me? Just good friends! pic.twitter.com/xMkNdbQBd2

— Johnny Vegas (@JohnnyVegasReal) February 2, 2017
It is not clear whether any broadcaster is currently attached to the project.
Tomlinson and Vegas have been regular collaborators, appearing with Barber and Imelda Staunton in the 2003 film The Virgin of Liverpool and Sacha Baron Cohen's Grimsby last year.
Vegas also directed Tomlinson in the 2013 drama Ragged for Sky Arts, which chronicled Tomlinson's imprisonment in 1973 after picketing in support of Britain's first national building strike, and his introduction to Robert Tressell's political novel The Ragged Trousered Philanthropists while inside.Vegas had previously starred in a 2008 adaptation of the book on Radio 4 with a cast that included Paul Whitehouse, Bill Bailey, Kevin Eldon, Timothy Spall... and former deputy Prime Minister John Prescott.
Tomlinson also recently revealed that he is to publish another memoir about his life in showbusiness.
- by Jay Richardson
Published: 3 Feb 2017
What do you think?