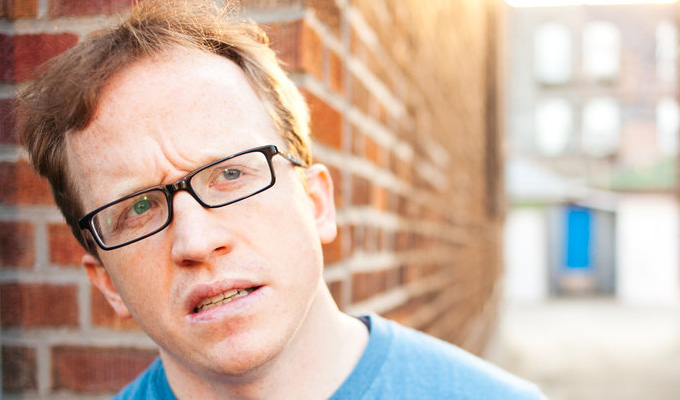 The funny side of suicidal depression
The comedy week ahead.
Monday January 23
LIVE IN LONDON: American comedian Chris Gethard made a splash at last year's Edinburgh Fringe with his skilfully told and unflinchingly honest show about his suicidal tendencies. Though the subject matter is dark, there's a rich strand of gallows humour in the telling, not least courtesy of his unconventional therapist. It makes Career Suicide a rich, rewarding and entertaining hour of storytelling, and now it lands at the Soho Theatre for a two-week run at 9.45pm nightly. Review.
LIVE IN LONDON: It'd be a tight turnaround, but you could do worse than make Gethard a double with Bilal Zafar's strong debut show at 8.45pm. It's based entirely on winding up Islamophobic bigots on social media - easy pickings indeed - but he successfully strings it out into a sequence of increasingly silly exchanges over the best part of an hour. He's at Soho for a week before heading off on a national tour. Review and dates.
LIVE IN NEWCASTLE: Maybe a Nazi showman offering crowdpleasing, if ideologically worrying, entertainment isn't the ideal thing to take your mind off current events. But Frank Sanazi, the Fuhrer-inspired lounge singer, brings his tongue-in-cheek spoof Das Vegas Night to The Stand tonight.
Tuesday January 24
RADIO: Dame Barbara Windsor's series celebrating icons of British entertainment ends with Bob Monkhouse. The hour-long show features interviews with the likes of Barry Cryer, Denis Norden, Bob's daughter Abigail Williams and Joe Pasquale, not to mention archive material from Monkhouse himself. Radio 2, 10pm
Wednesday January 25
LIVE IN LONDON: It's Burns Night, but the Glasgow Comedy Festival is, as usual, having its celebrations south of the border, with a launch show at the Leicester Square Theatre. Simon Munnery, Richard Gadd, Imran Yusuf and Tiff Stevenson are among the acts metaphorically toasting the haggis.
LIVE IN LONDON: Hidden in the caverns beneath Waterloo Station, the Vaults Festival kicks off today, with six weeks of innovative comedy, theatre and film. Comic highlights include sketch duo Toby, Battleacts improv, and the wonderful Beef And Dairy Network Podcast live. Website.
LIVE IN BRIGHTON: Ill-prepared chaos of the entertaining kind as Comedians' Cinema Club comes to the Komedia, in which a gang of comics attempt to recreate a movie they may or may not have seen.
Thursday January 26
RADIO: Newsjack, the topical comedy show anybody can write for - if your sketches and one-liners are good enough - returns with new host Angela Barnes. Radio 4 Extra, 10.30pm
Friday January 27
LIVE IN BIRMINGHAM: Plenty of good-humoured teasing and witty anecdotes on offer at the Glee this weekend with the charming trio of Ed Gamble, Jimmy McGhie and Marlon Davis bringing their well-honed comedy stylings to the Brum stage.
• Search our full listings for comedy near you using the pull-down menus at the very top of this page.
Published: 22 Jan 2017
What do you think?