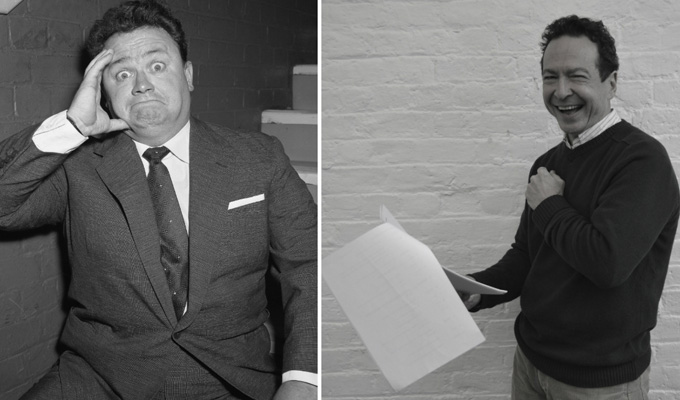 Secombe replaces 'Tony Hancock'
Harry Secombe's son Andrew is to follow in his father's footsteps – by appearing in Hancock's Half Hour.
The Goon stepped in when Tony Hancock disappeared from his top-rated radio show in 1955 amid a dispute over whether his radio appearances might damage his theatre ticket sales. He fled to Rome without telling anyone, leaving producers scrambling to find a replacement.
Secombe covered the Hancock role for the first three episodes of the second  series before Tony Hancock resurfaced in time to record the fourth. Writers Ray Galton and Alan Simpson even including a scene in which Hancock went to Wales to thank Secombe for filling in.
The three Secombe episodes – A Holiday in France, The Crown Jewels and The Racehorse  – are among those that were wiped from the BBC's archive.
However, they are now being re-recorded as part of Radio 4's  Missing Hancocks series, with Andrew Secombe reading the lines his father did. 
They have been brought back to life thanks to actor and book dealer Neil Pearson who discovered the scripts for the missing episodes.
Secombe said: 'These programmes have long been a source of curiosity among the family, developing an almost mythic quality - indeed I had no idea that the scripts still existed until I got the call from Neil Pearson! I'm thrilled to be a part of the very talented team bringing these episodes of a much-loved series back to life. Who'd have thought taking over the family business could be such fun?'
Also being re-recorded is the fourth episode, A Visit to Swansea, for which Kevin McNally, who has played Hancock in previous recreations, will return in this role. 
The new season of Missing Hancocks, which will air next year, will also feature the re-recording of another 1995 episode, The Three Sons, which means 15 of the 20 lost episodes will have been replaced.
Sioned Wiliam, commissioning editor for comedy for Radio 4  said: 'It's particularly delicious to have Andrew stepping in to his father's shoes. And a joy to welcome these great scripts by Galton and Simpson and Neil Pearson's meticulous production back to Radio 4.'
The new episodes are being recorded in London tonight and tomorrow night with a cast that also includes  Kevin Eldon, Simon Greenall, Susy Kane and Robin Sebastian. 
Harry and Andrew Secombe are pictured above.
Published: 2 Dec 2016
What do you think?