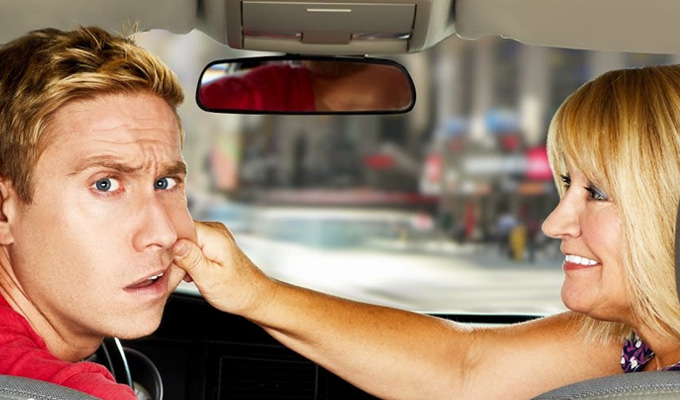 Oh mum, you're SO embarrassing...
The comedy week ahead.
Sunday October 16
TV: Sky1 launches a strong family comedy double bill tonight ahead of The Simpsons. At 6pm is Harry Hill's long-awaited return to TV with Tea Time, which brings his TV Burp sensibilities to the cooking format. The guest on episode one is Paul Hollywood, who is challenged to make a George Michael doner kebab with feta cheese. Look out, too, for the disco squid, Harry's hunch-backed assistant Trevor Modo and a melancholic singsong from the Delia Smiths. Then at 6.30pm, it's the return of Yonderland for a third series, with Stephen Fry as the avuncular and eccentric Cuddly Dick.

LIVE IN LEEDS: It looks like overbooking, quite frankly, as ten acts gather at Aspire: Carl Donnelly, Chris Martin, Joe Lycett, Joel Dommett, Joey Page, Lauren Pattison, Mick Ferry,Nathan Caton, Phil Wang, Ray Peacock offer a busy night of entertainment
LIVE IN NEWCASTLE: The Newcastle Alternative is a new 16-day comedy festival based at the Stand featuring 32 shows, kicking off tonight with Seymour Mace's Shit Title, a typically silly follow-up to his Edinburgh Comedy Award -ominated show of 2015. And tomorrow punster Gary Delaney is in town.
Monday October 17
LIVE IN LONDON: It's the first of three weekly lastminute.com Fringe Comedy Award Shows at the Lyric tonight, featuring this year's Edinburgh winner Richard Gadd. Though while this West End showcase would once have spotlighted this year's nominees, this year they've jumped around, with the bill comprising David Trent (2012 best newcomer nominee), Holly Walsh (2011 best newcomer nominee) and Andrew Maxwell (2007 and 2011 best show nominee).
Tuesday October 18
LIVE IN LONDON: Dawn French reprises her autobiographical stand-up show 30 Million Minutes for one last time at the West End's Vaudeville Theatre this week. Click here for our review and ticket links.
LIVE IN LONDON: Richard Gadd begins a four-week residency of his deeply personal, and sometimes challenging, Edinburgh Comedy Award-winning show Monkey See, Monkey Do at the Soho Theatre.
LIVE IN KINGSTON: A big charity gig at the Rose Theatre raises money for the local Momentum Children's Charity. It's headlined by Andy Parsons. Or maybe it's Tim Vine. Or possibly Milton Jones. Yes, there's too much talent to choose from, and that's before you add Christian Reilly, Joanna Neary, Mary Bourke, Paul Zenon, Steve Best Tony Law and MC Dan Evans into the very rich mix.
Wednesday October 19
TV: Russell Howard & Mum: USA Road Trip, launches Comedy Central tonight with the comedian and hiss mum, Ninette, going on a trip around the States where they meet - of course - 'an array of weird and wonderful characters'. In episode 1 the pair head to Nevada where they join an alien abductee support group and venture out to an alien hot spot in a bid to make contact. And we'll put the show's clumsily title down to the demands of electronic programme guides or search engines. 10pm.

TV: Marley's Ghosts returns to Gold with a second, six-part series, featuring Sarah Alexander as a woman who sees dead people. Most specifically her husband Adam (John Hannah), her lover Michael (Nichlas Burns) and the local Vicar (Jo Joyner). 10pm
RADIO: Andrew O'Neill's stand-up show Pharmacist Baffler, in which he looks at sexual and gender identity through his own experiences as a transvestite, gets a repeat airing on Radio 4 Extra. 10.30pm
Thursday October 20
LIVE IN MANCHESTER: The Women In Comedy festival kicks off tonight with a gala at the Frog and Bucket featuring Angela Barnes, Suzy Ruffell, Jen Brister and Kerry Leigh. It runs until the end of the month. Website.
LIVE IN GLASGOW: After Still Game, the Hydro is becoming THE place for Scottish sitcoms to launch live shows… and tonight Greg McHugh's Gary Tank Commmander starts a three-night run there.
LIVE IN BROMSGROVE: Angelos Epithemiou and Barry From Watford start their tour at the Artrix, talking nonsense about 'the bookies, Londis, Crimewatch, if you can claim benefits in space, whether or not Kim Jong Un cuts his own hair and how Ban Ki Moon once nearly lost The UN in a poker game'. Fans of their podcast will know exactly what to expect… Dates.
LIVE IN EAST KILBRIDE: Gary Little starts a Scottish tour of his frank storytelling show A Little Bit of Personal tonight. The full schedule is here.
Friday October 21
LIVE IN LONDON: After cancelling a previous tour because of unforeseen circumstances - oh, the irony - spoof psychic Shirley Ghostman starts a pre-Halloween five-night run of his Spooktacular at Bush Hall, before two nights at Manchester Monastery. Mark Wootton's fake medium (as if there is any other kind…)
LIVE IN LONDON: Tony Law returns to London with his 'surreal comedy-art' show A Law Undo His-elf What Welcome, running at the Leicester Square Theatre until next Saturday.
LIVE IN HALIFAX: The week-long Halifax Comedy Festival kicks off with Jimmy Carr bringing his 'best of' tour to town. Future highlights include Romesh Ranganathan tomorrow, Al Murray and Paul Sinha on Monday and James Acaster next Friday. Website.
LIVE IN NORWICH: Griff Rhys Jones embarks on his first solo comedy tour, featuring anecdotes and stories about his 30-year association with Smith, who died at the age of 60 in 2013. Tour dates.
LIVE IN BRISTOL: Fin Taylor's cheeky, daring and very look at racial politics, Whitey McWhiteface, gets a run-out at the Wardrobe Theatre. Review.
Published: 16 Oct 2016
What do you think?