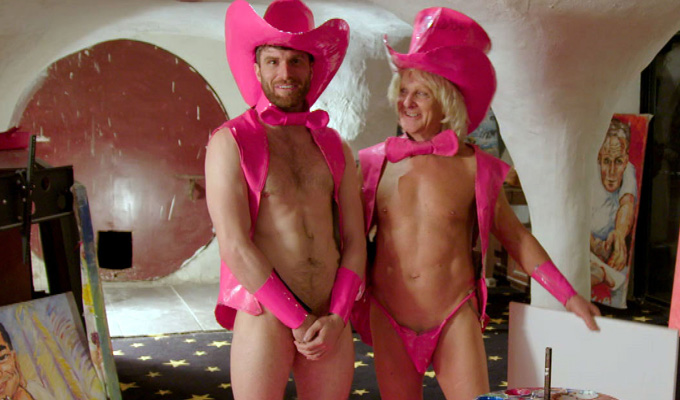 Talk about a dick pic...
•
Joel Dommett has painted a still life using his penis, after meeting an Australian (who else?) who's mastered the art. Dommett visited the artist called Pricaso at his Gold Coast home for Channel 4's new series of World Of Weird - a sort of 21st century, a pan-global Eurotrash narrated by Sarah Millican –  which aired this week. And after getting his portrait done, right, the comedian decided to try his hand, or rather dick, at the same skill… His fruit and veg (not a euphemism) is also pictured.
• Frankie Boyle has spoken about one of the most terrifying death threats he's received. 'I had some guy saying he was going to turn up and kill me! And I looked him up and he was a murderer!' he told Romesh Ranganathan's Hip Hop Saved My Life podcast  'He was also terminally ill. So we were doing the tour and looking at Twitter every week going "Has that guy died yet?" And then we get to the town that he lives in and he's starting to send these messages, "Going on a big journey tomorrow". So we're like "holy shit!", we want extra security at the gig, we've got photos of this guy … [he's tweeting] "off on this final journey", all this stuff. 'Then we do the gig, get through it all. And the next day he just tweeted: "Had a great trip to Scotland! What a holiday."'
• Matt Richardson has revealed that he only discovered he had been dropped as co-host of ITV2 X Factor spin-off when he read about it in the newspaper. He tweeted yesterday: 'I found out The Xtra Factor sacked me when I read the paper that day. True Story.'  At the time, in 2014, he span the line that he needed more time to write his stand-up, and that he didn't want to work on the show without Caroline Flack, who had just quit.
• The house where Robin Williams's divorced dad character posed as Mrs Doubtfire to see his kids has gone on the market. The large, four-bedroom San Francisco house is on the market at $4,450,000. In 2014, when Williams died, fans built a makeshift memorial shrine on its steps. Have a nose around here
• Meanwhile, stand-up Russell Peters is selling not one but  two multi-million-dollar mansions further south in California: A massive nine-bedroom, 10,000 sq ft, Malibu mansion for $12million (here).  And a  $2.8 million, five-bedroom, six bathroom house in Studio City (here). Not bad for the proceeds of telling jokes.
• Alan Carr has got engaged to his partner of eight years, Paul Drayton. Paul popped the question during a meal while the couple were on holiday Indonesia last week, hiding an engagement ring in the dessert. Alan said: 'I was like, "Oh my God, a filling's come out, just my luck on holiday." I pull it out and it's this ring and then the man on the organ starts singing "Can you feel the love tonight?"' Trust Carr to get the word 'organ' into that story...
• Meanwhile,  Carr is to guest edit Heat magazine. The comedian will chair an editorial conference at 11am on Monday that will air live on Facebook, deciding content for the edition which hits newsstands on October 11. The stunt, the first time the magazine has had a guest editor, will promote Carr's book Alanatomy and his forthcoming appearance on Channel 4's Stand Up To Cancer.
• Still Game returns to our screens soon, with the make-up and wardrobe departments again transforming the cast into pensioners, ageing them by decades. But it can lead to on-set awkwardness, as Mark Cox, who plays tight-fisted Tam, revealed at a Q&A session in Glasgow this week. During an earlier series he accidentally walked in on his co-star Jane McCarry in Isa's full costume of grey wig and glasses, breastfeeding her son. 'Try unseeing that!' he lamented. 'So wrong'.
• Stephen K Amos says he's going to live in the States for six months to try and crack the American market. 'I have a hunger right now for America and to represent British stand-up.' he said. 'There's Eddie Izzard and maybe James Corden with his talk show, but still not many British comics have broken through over there. I noticed that Bill Burr came over to the UK in the summer and sold out these big venues, but why is it not the other way around? There are so many good British guys who would do well over there.'
• Usain Bolt has revealed an unlikely inspiration for his training regime – Kevin Hart. The sprinter said of the world's top-earning comedian: 'No matter what time, if he has to go on set, he gets up early and gets an hour in, he said: 'It motivates me. Cause I'm like, I'm an athlete, and he's not. And he works so hard. He motivates me to want to do better.'
Tweets of the week
How sweet. My wife just texted me to say our marriage was 'Enviable'. (Even if she did accidentally write it with a 'U' instead of an 'E').

— T'Other Simon (@TOther_Simon) September 26, 2016
Sad to hear the inventor of footnotes has died. The funeral is tomorrow between¹ and².

¹ 11
² 12

— Moose Allain (@MooseAllain) September 27, 2016
Putin vote rigging allegiations:
Some Russian voters have now put more X's in a box than Henry VIII.

— PanelbeatersComedy (@PanelBComedy) September 28, 2016
Published: 30 Sep 2016
Recent News
What do you think?