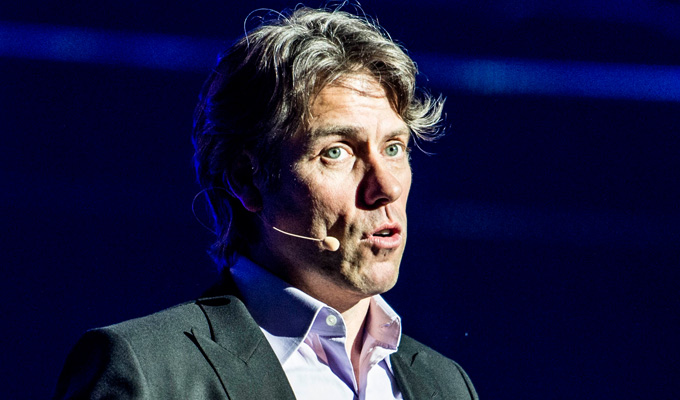 John Bishop is UK's highest earning comic
John Bishop is the highest-earning British comedian this year, according to wealth magazine Forbes.
He was the only Brit to make the list of the global top ten comics, with estimated income of $7million (£5.4 million) over the past 12 months.
Meanwhile Amy Schumer has become the first ever female to ever appear on the list. Her £13.1million put her at number four behind Kevin Hart, Jerry Seinfeld and ventriloquist Terry Fator.
Forbes said her inclusion was 'a big first as women have historically faced difficulty being taken seriously in the funny business'.
Hart was the runaway leader, with an income of £67.3 million – more than twice that of Seinfeld's £33.5 million. He is the sixth highest-earner of all celebrities, with Taylor Swift at No. 1
The comics' earnings came from touring, endorsements, films, DVD sales, TV specials and paid appearances. Forbes's earnings estimates are based on data from Pollstar, Box Office Mojo and IMDB, as well as interviews with agents, managers, lawyers and industry insiders.
The magazine said: 'The reason for Hart's dominance is simple: He tours like no other comedian. In the 12 month period, Hart played over 100 shows with an average gross of over $1 million at each stop. And these shows aren't at dingy comedy clubs; Hart played stadiums and arenas, including Madison Square Garden and the Staples Center.
'Because the stand-up comedian's set requires little more than a stool, water bottle and microphone, he takes home a larger cut of that gross than, say, a musician would.
'To pad his tour earnings Hart took to both the big and small screens, with films Central Intelligence and Secret Life of Pets and commercials for Hyundai, Foot Locker and H&M.'
The top ten are:
1. Kevin Hart: $87.5million (£67.3 million)
2. Jerry Seinfeld: $43.5million (£22.5 million)
3. Terry Fator: $21million (£16.15million)
4. Amy Schumer: $17million (£13.1million)
5. Jeff Dunham: $13.5million (£10.4million)
6. Dave Chappelle: $13million (£10million)
7. Jim Gaffigan: $12.5million (£9.6million)
8. Gabriel Iglesias: $9.5million (£7.3million)
9. Russell Peters: $9million (£6.9 million)
10. John Bishop: $7million (£5.4 million) 
Published: 27 Sep 2016
What do you think?