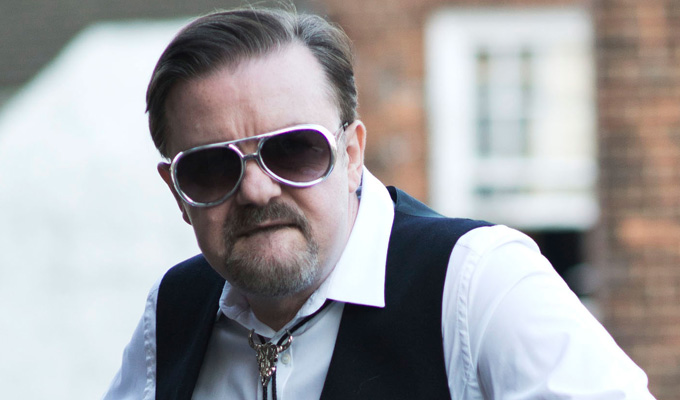 Ricky Gervais announces David Brent gigs
Ricky Gervais is to play two major gigs as David Brent.
His Office character will be back with his band Foregone Conclusion for two nights at the Eventim Apollo in Hammersmith.
He first played with the band in the 500-seat Bloomsbury Theatre in 2013, selling out in under 15 minutes. The following year they played the Apollo and the New Theatre in Oxford.
Their songs then included Free Love Freeway, Spaceman Came Down, Slough, Life On The Road, Ain't No Trouble and Lady Gypsy. (Review)
The new gigs will come a couple of weeks after the release of the new David Brent movie Life On The Road on August 19. The soundtrack, containing 15 to 20 songs,will be released on the same day.
Gervais was joined by Chris Martin of Coldplay for some of the recording, while Razorlight's Andy Burrows, who plays Foregone Conclusion's drummer, co-wrote some of the songs.
Last year Gervais spoke about some of the new tracks, saying: 'One has Brent singing about the plight of the Native American Indian. As you can imagine he got his information off Wikipedia and it's horrendously pompous and wrong and accidentally insulting.
'Another is called Don't Cry it's Christmas, it's Brent's Christmas song. It's a song about an orphan he knew.' There is also a track called Please Don't Make Fun Of The Disabled.
Cast members of the new film include Ben Bailey Smith (aka Doc Brown), Kevin Bishop, Tom Basden and Roisin Conarty.
Gervais announced the new shows on September 8 and 9 via Twitter
.As the poster says, tickets go on sale at 10am on Saturday.
Here is Brent and the band singing Free Love Freeway at a benefit for Kids Company in 2013:
Published: 30 Jun 2016
What do you think?