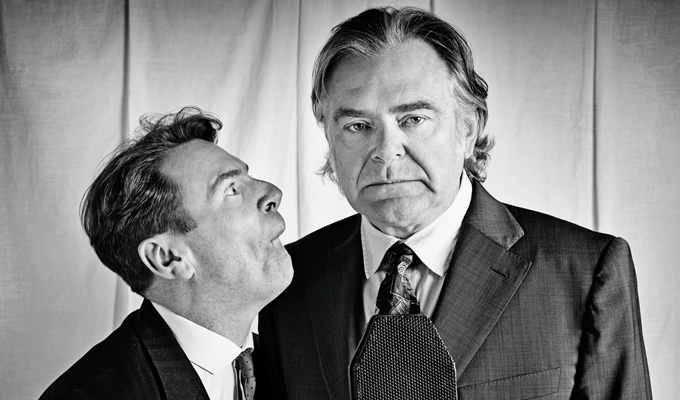 Missing Hancocks to return
Radio 4 has commissioned a third series of The Missing Hancocks, despite star Kevin McNally sparking rumours that it had been cancelled.
The BBC has previously re-recorded ten of the 20 episodes of Hancock's Half Hour wiped from their archives, after the original scripts resurfaced.
With the commission announced today – on what would have been Tony Hancock's 92nd birthday – that total will be brought up to 15. However, fans will have to wait to hear them, as the new episodes will not air until late 2017 or early 2018.
Back in January, McNally tweeted that the BBC had called time on the show, lamenting that 'despite good listening figures and healthy CD sales the BBC are abandoning our project half way thru'.
But as Chortle  reported in March, Radio 4 had not made the final decision. Actor Neil Pearson, who rediscovered the lost episodes in his capacity as a collector of antiquarian books, told us: 'While nothing is set in stone… I do expect the show to get favourable hearings because it's done very well in its first two incarnations'.
And today, Sioned Wiliam, commissioning editor for comedy on Radio 4, said: 'I am delighted to commission more episodes of The Missing Hancocks, particularly when Neil shared his choice of scripts this time round – I'm very excited by what's in store! But the biggest joy is having the great Galton and Simpson back on Radio 4.'
The news comes in the week that the writing partnership of Ray Galton and Alan Simpson, who also created Steptoe and Son, were awarded Bafta's highest honour, its fellowship.
Pearson will direct the new episodes, which will be recorded in front of a live studio audience. Returning cast includes Kevin Eldon as Bill Kerr, Simon Greenall as Sid James and Robin Sebastian as Kenneth Williams, and Susy Kane.
Meanwhile, Hancock fans will also be able to see McNally in the Hancock's Half Hour episode The New Neighbour, which has been re-recorded  as part of the BBC comedy sitcom season this summer.
Other revivals and reboots include Steptoe and Son, Till Death Us Do Part, Are You Being Served?,  Porridge, Up Pompei and a version of Keeping Up Appearances about the life of the young Hyacinth Bucket.
Published: 12 May 2016
Recent News
What do you think?