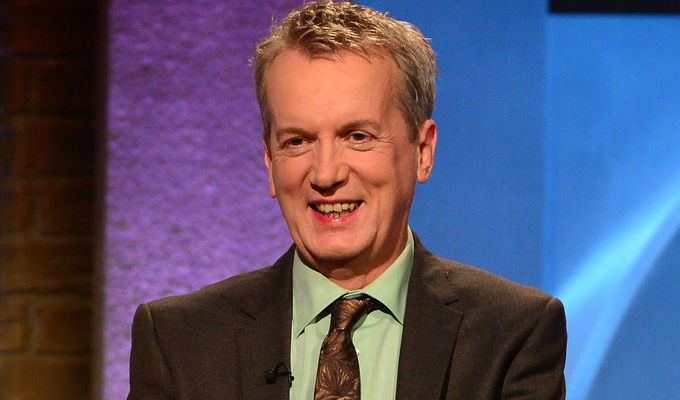 Frank Skinner: Drink made me hallucinate spiders
Frank Skinner has spoken about his years as an alcoholic – confessing that he used to hallucinate spiders and suffer temporary blindness from drinking too much.
He made his admission to Frankie Boyle, who has also struggled with alcohol addiction, during the iPlayer interview show On Demand.
Both comedians spoke of how they romanticised their problems, during a discussion about the Professor Green documentary Hidden And Homeless.
Skinner revealed: 'I was a very, very heavy drinker for a long period of my life and never actually was homeless except my dad threw me out a few times and I just slept on people's sofas…
'But one of the things that kept me going as a drunkard, despite the bedwetting and seeing spiders crawling on my ceiling that weren't there and temporary blindness and all that ,was that it made me feel like a bit of an outlaw. There was a self-dramatisation about it, which I enjoyed.
'When I was on waste ground with a bottle of whatever and saw people walking past I thought: "These are the people who are working for The Man, they are the normal they worship at the alter of the great god normal and I am a bit alternative and different…" and that kept me going for many years, that sense.'
Boyle said he 'totally' had the same experience, saying: 'Addictions look for a narrative.'
'Obviously you're living in this chaos and we exist to pick some kind of thread, some kind of narrative out of chaos and we go, "Maybe it's because I'm cooler."
 'I had a point when I would hang out with homeless people, usually people in homeless shelters, because I drank so much I ran out of drinking partners. People would just fall by the wayside so I need to go somewhere else.
'You get into shadier and shadier situations and you go this is kind of like Charles Bukowski' or something.'
Both comedians are now teetotal.
Later in the show, while discussing the Panorama investigation Tax Havens Of The Rich And Powerful Exposed, Boyle suggested the super-wealthy were as addicted to making money as drug addicts were to their substances.
Speaking of the extremely rich, he said: 'They need to pursue [money] more… it's that "I need a yacht; I need a private island, whatever." They are like addicts chasing that high.'
'Two very similar types of addiction and two very similar responses to trauma. I think the upbringing of people who end up having offshore trusts and deciding not to pay tax is a similar trauma. It might be a public school trauma, but they are just traumatised in a different way and they are responding by trying to fill a void in a different way.
Boyle also chose Match Of The Day – which he says he only allows himself to watch if he achieves his target of having written three jokes a day which he can tell on stage – and the documentary series Scotland: The Promised Land.
Of the latter, he said: 'If you're Scottish there has always been less representation of Scottish people in the media so seeing images of ourselves is a bit like a chimp seeing a mirror for the first time going, "Oh, this is us."'
Here is Frank Skinner On Demand with Frankie Boyle:
Published: 29 Apr 2016
What do you think?