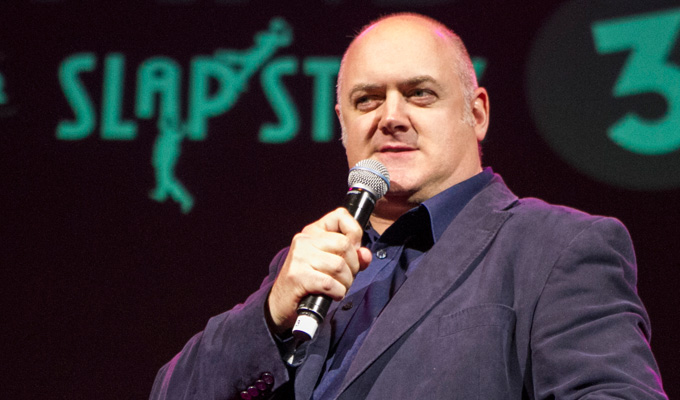 Dara O Briain to host TV gaming show
Dara O Briain is to host a new computer gaming show for Dave.
Go 8 Bit is based on comedians Steve McNeil and Sam Pamphilon's live show, which debuted at the 2013 Edinburgh Fringe.
The pair will feature as team captains as they and guests battle over five video games to become Go 8 Bit champions, with comedian and video games journalist Ellie Gibson adjudicating, commentating and winding up the contestants.
Filmed in front of a studio audience, the show promises to include 40 years of classic titles like Pac-Man, Street Fighter and Tetris, as well as the latest gaming technology such as virtual reality and motion capture.
Producers say Go 8 Bit will 'supersize' retro games into big set-pieces, with 'tons of comedy chat', with the audience interacting and scoring proceedings on their smartphones.
Six 60-minute episodes of the show have been ordered to air in the autumn.
O Briain said: 'Put a video game controller in the hands of a nun and she'll turn into a trash-talking bloodthirsty monster. Give a controller to a comedian and they'll do that too, but be funny.
'In video games veritas, my friends. This show is a raucous, back-biting, properly competitive celebration of the world's favourite pastime. Let's Go 8 Bit!'
Executive producer Don Taffner Jr added: 'Dara O Briain's Go 8 Bit is unlike anything else on TV. It is a completely new type of gaming show with its mix of gaming experts, comedians, guest stars and nostalgia to create an unmissable entertainment series.
'The show will combine our love for retro games with the latest technology and audience interaction that all viewers – young, old, male, female, and most importantly gamers and non-gamers – will love.'
Go 8-Bit became a regular live comedy night in London and has been in development for television since 2014.
Writing on their website, McNeil and Pamphilon revealed that they have been working on the series for 18 months.
McNeil is also a gaming journalist and previously hosted his own show about Minecraft on specialist channelGinx TV and Videogame Nation for Challenge TV.
An enthusiastic gamer, O Briain has been a regular host of the Bafta Video Game Awards and appeared on Charlie Brooker's Gameswipe, which ran for five series between 2006 and 2009 on BBC Four.
This new commission follows three series of his School Of Hard Sums on Dave. He is currently filming Robot Wars return for the BBC.
Go 8 Bit also comes after the revival of BBC Two Scotland's comedy-gaming show VideoGaiden, hosted by Burnistoun's Robert Florence and Ryan Macleod, eight years after the last series.
Meanwhile, stand-up John Robertson's retro live-gaming experience, The Dark Room, continues to play at festivals around the world.
Go 8 Bit recordings will take place at Fountain Studios in Middlesex from next month.
The series is directed by Steve Smith, whose credits include Alan Carr: Chatty Man, Safeword and Rob Brydon's Guess List, and produced by Darren Sole and Rohan Acharya.
Go 8 Bit is made by DLT Entertainment, who produced My Family, and was ordered for Dave by the channel's director of commissioning Richard Watsham and general manager Steve North. It is executive produced by Iain Coyle, Taffner Jr and Michaela Hennessy-Vass.
Here's a clip of O Briain performing his routine about Metal Gear Solid on Live At The Apollo:
And here's a trailer for McNeil and Pamphilon's Go 8-Bit live show.
- by Jay Richardson
Published: 20 Mar 2016