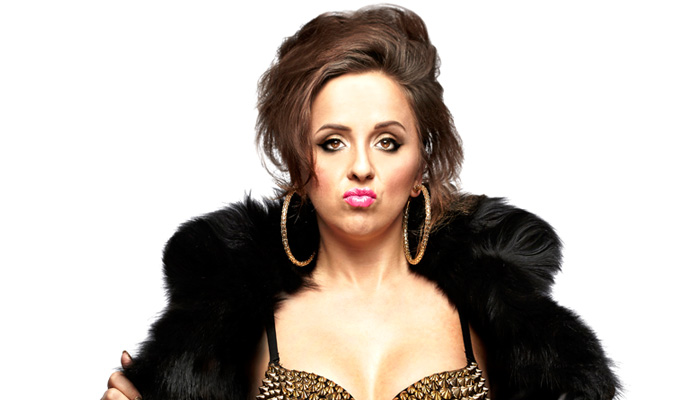 'I took things into my own hands'
Luisa Omielan has taken the DIY approach to her comedy career to the next level – by releasing a full-length, professional stand-up video, funded entirely by her own efforts.
The comic – who has no agent and no TV profile – spent £19,000 filming and editing her show Am I Right Ladies? after becoming frustrated at the lack of opportunities offered by the traditional comedy industry.
More than half the money was raised by crowdfunding, the rest from a business loan.
And for the next stage in her career, she has hired out the 2,000-seat Forum venue in London for her biggest gig to date, risking another £6,000 before spending a penny on marketing.
'I decided to film my own DVD after coming back from the Melbourne comedy festival in the spring,' Omielan told Chortle. 'I did the TV gala there, and a clip of my "thigh gap" routine got more than 30million views on Facebook.
'It showed me how much of an audience I have access to, but when I came back to the UK, I was making no progress. it was very frustrating.
'I struggle to get on TV. I've not been on any panel shows, and it's not really the sort of format I'd necessarily excel at anyway, but there are few other opportunities. So I decided to take things into my own hands.'
She hired the Cochrane Theatre and the crew and equipment needed for a five-camera shoot, set up her own production company and signed up Emmy-nominated director Sarah Townsend, who made the Eddie Izzard film Believe, to oversee the project.
Omielan also roped in friends to help with everything from running the crowdfunding campaign to her personal styling – and even got her mum to help sell merchandise on the day of the recording.
'I love the way I've done it,' Omielan said. 'I'm really happy and proud to have created it, and I like the way this way creates a direct link with my audience.
'But I do sometimes wish I had more help. I've just spent the weekend working on the back end of my website making sure it can cope with the bandwidth of the videos, when all I really want to be doing is writing jokes.'
However she has fully embraced the DIY ethos pioneered by the likes of American comic Louis CK, revealing that she even turned down substantial funding from DVD giants Universal, who made an approach when they saw she'd launched her crowdfunding appeal this summer.
'It's a bit scary,' she said. 'But I see this as a long-term project.'
Am I Right Ladies?, which was nominated for a Chortle Award this year, is out now as a £9.99 download from here website – with a DVD version expected later this week. 'They should be ready in time for Christmas as people want to give physical gifts,' Omielan said. 'And then I can sell hem at gigs.'
• Omielan is performing Am I Right Ladies? at The Cookie in Leicester tonight, the Cardiff Glee on Wednesday and the Bike Shed Theatre in Shoreditch, London, on Thursday to Sunday. Tickets are also available for her gig at the Forum on February 13 here.
Here is the 'thigh gap' routine that went viral:
Published: 7 Dec 2015
What do you think?