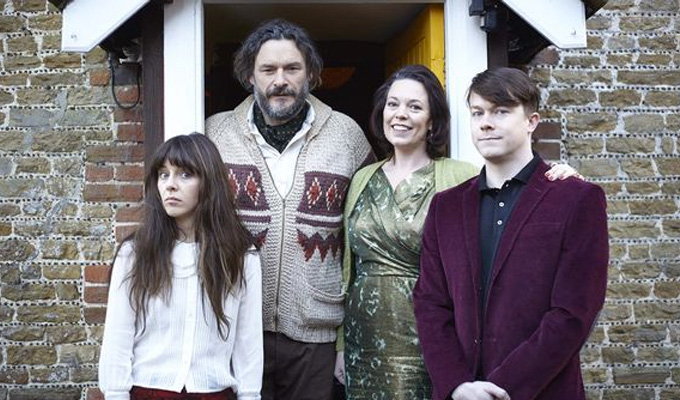 C4 picks Flowers
Olivia Colman and Julian Barratt are to join forces for a dark new Channel 4 comedy.
The broadcaster has ordered a six-part series of Flowers, follwing a successful pilot commissioned last year. It is described as 'an imaginative, cinematic comedy about an eccentric family, struggling to hold themselves together'.
Boosh star Barratt plays Maurice, author of twisted children's books The Grubbs, and Colman plays Deborah, music teacher who becomes increasingly suspicious that her husband is in a secret homosexual relationship with his Japanese illustrator Shun, played by Will Sharpe, who wrote the show.
The cast also includes Daniel Rigby and Sophia di Martino, who played the girlfriend of Simon Bird's character in Friday Night Dinner, as the couple's grown-up twins both competing for the same girl. And Leila Hoffman plays Maurice's 'fruitcake' mother Hattie.
Channel 4 says: 'Swinging from the magical to the mundane to the downright mad, the eccentric Flowers and their often self-inflicted crises, are surrounded by even stranger neighbours who become the agents of yet more everyday chaos and disaster.'
Sharpe, who previously co-wrote and co-directed the movie Black Pond with Chris Langham and Simon Amstell, said: 'I feel very lucky to be making this show with Kudos and Channel 4. They have been unfailingly supportive and have pushed me to make bold decisions on a show that seeks both to celebrate and to challenge the traditional sitcom format.
'This is a comedy about people who are struggling and the situations that can arise when you refuse to admit that there are problems. Our aim is not to make light of the darkness, but to find the light within it.'
Channel 4's deputy head of comedy, Nerys Evans said: 'Flowers is the kind of deliciously dark comedy we love at Channel 4. The word dysfunctional doesn't even come close to describing quite how brilliantly peculiar the Flowers family are. Will Sharpe's genius coupled with an amazing cast has led us to an unbelievably original piece and we are delighted to have it on the channel.'
The series is expected to air next year.
Published: 26 Aug 2015
What do you think?