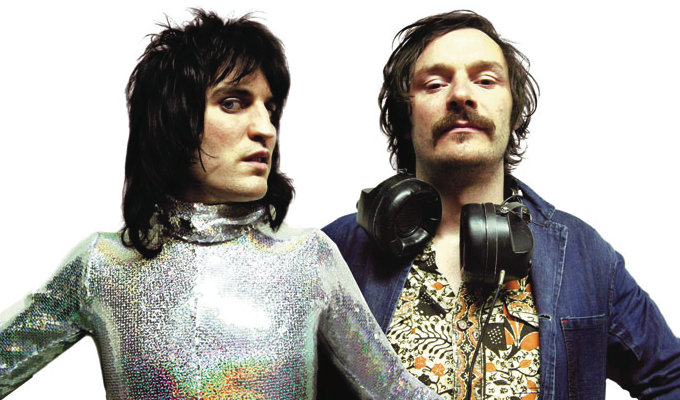 The Mighty Boosh saved my life
• 'I can't write jokes for the average person,' says Frankie Boyle. 'The average person is Chinese.'
• It would be a mix-up to frustrate any comedian. Readers of critic Kate Copstick's Facebook page on Wednesday learned that 'due to an error at The Scotsman' her review of character comic Matt Roper's Fringe Show last year 'only gave three stars when in fact it ought to have been a full five'. She praised his 'vile but utterly loveable powerhouse creation of Wilfredo' and predicted this year's show will 'smash the Festival'. Only she didn't – her account had been hijacked (we refuse to use 'fraped') by Roper. He was performing in Copstick's Mama Biashara shop in London and borrowed her PC while her back was turned. It took her several hours to realise, but even after she corrected it she commented: 'They are still sharing Matt Roper's fucking fake fucking fabulous fucking posting on my page about him and fucking WilfuckingFredo. WTF.' Copstick's pal, John Fleming reported the incident on his blog and says it's likely to be a contender for the Malcolm Hardee Cunning Stunt Award, which he organises.
• Indeed, Hardee himself once did a similar thing. He and Arthur Smith wrote a glowing review of Hardee's Fringe show and posted it through the door of The Scotsman (different times…) under the name of William Cook, the newspaper's own comedy reviewer. And it got published. Two years ago, comic Barry Ferns won the Cunning Stunt Award for printing and distributing 2,000 fake copies of Fringe review newspaper sheet Broadway Baby in which his own comedy show was given six stars.
•
The man on the sleeve of the Smiths' How Soon Is Now? single played one of the priests in Father Ted. Actor Seán Barrett played dull-voiced Fr Fitzgerald in the Christmassy Ted episode, whose dreary speech over a department store's PA system enables the priests to escape from the lingerie department. This nugget comes from this Irish Times article tracing the actors behind some of Craggy Island's best supporting priests.
• Still on Father Ted, Dublin-based Japanese artist Shota Kotake has been drawing a picture inspired by the sitcom every day since the show's20th anniversary back in May in an attempt to break a Guinness World Record. Why not, eh? Click here for more of his depictions of the show…
• And Father Ted has inspired one of the names in a list of Britain's punniest businesses: Liverpool tyre shop Farther Treads. However it didn't win the title in a competition run by Appsme – that went to a pop-up Greek food stall in London called I Should Be Souvlaki. Other finalists included the Milton Keynes florist Back to the Fuchsia, York florist Florist Gump, London falafel shop Just Falafs, Yorkshire mobile tanning shop U-Rang-A-Tan and Brighton removal company He-Van Movers of the Universe.
• A Bristol man says the Mighty Boosh saved his life. Joe Melarky, 21, contracted testicular cancer – but said he caught it early enough because of a scene in the show. In The Story of Voodoo Scat, Rich Fulcher told the story of an old jazz magician and a voodoo priest which had the moral: 'Check your balls'. Indeed Joe did, and last Christmas identified a lump, which was cancerous. But he has now been given the all-clear and told the Bristol Post: 'It does sound ridiculous but the Mighty Boosh may well have saved my life. There was this silly skit about checking your balls and it stayed with me so I did actually check regularly. Who knows, if I hadn't caught it so early I may not be here.'
• Alan Carr says he'll ski down Middlesbrough's new £30million indoor ski slope if Teesside is named City of Culture.
• Hats off to ITV2 for this promotional tweet this week:

Don't Miss #BackToTheFuture 2. Yesterday. 6.50pm. @itv2 pic.twitter.com/p12A9jbZQz

— ITV2 (@itv2) July 27, 2015
• It surely takes a special sort of arsehole to heckle a comic with cerebral palsy out of nowhere.. but that's what happens to Tim Renkow here:

• Red faces at the British Comedy Guide website after they sent out an email seeking comedians to provide them with blogs for the Edinburgh Fringe. They insisted the pieces be 'almost copy and paste ready (we don't have time to edit lots of bad grammar or anything)'. And to Joel Dommett's publicist they added: 'So not Joel D! I know he's a bit of a messy writer having edited something of his before…' Which is rather unfortunate as it got forwarded to Dommett by mistake. In revenge he completed their Edinburgh questionnaire rather sarcastically, with answers such as: 'Any cunning plans to get more punters in?Dis kwesjunair.' and 'What's your weirdest past Fringe experience? Getting an email from a website sayin I Was bad at gramma.' Here is the piece he submitted last year that led to the blackballing…
• Comedy's all well and good, but everyone needs a vocation to fall back on:

Incredible total colour correction by the amazing Daniel Kitson 󾆘 pm to book appointments xx http://t.co/QqPRLSeyyi

— Fabulous Salon (@fabuloussalon) July 28, 2015
• Just wow:

• Tweets of the week
The opposite of Islamophobia is Ayatolerance.

— Paul Sinha (@paulsinha) July 27, 2015
hey girl are you full communism because I like the idea of you but in reality I wouldn't last 5 minutes under you

— ~ (@daniel_barker) July 30, 2015
The first rule of Sergeant Pepper's Lonely Hearts Club is that you will find all talk of Sergeant Pepper's Lonely Hearts Club banned.

— Brian Bilston (@brian_bilston) July 30, 2015
Published: 31 Jul 2015
What do you think?