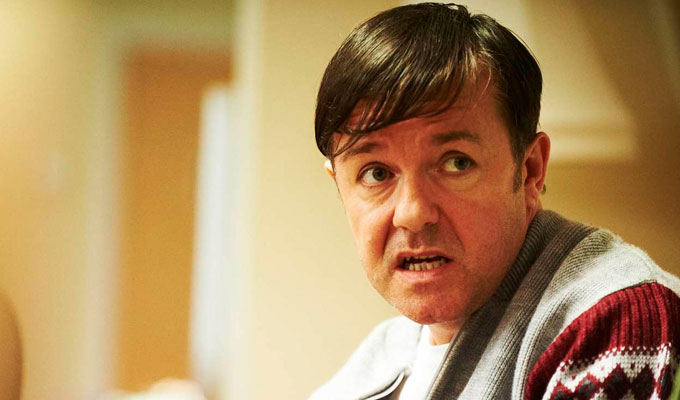 Golden Globes nod for Ricky Gervais
Ricky Gervais has been nominated for another Golden Globe for his performance as Derek.
He is shortlisted in the best comedy or musical actor category alongside Louis CK, House Of Lies' Don Cheadle, William H. Macy for the US remake of Shameless and Jeffrey Tambor for his role as a transgender retired professor in Transparent.
It is the third Golden Globes nomination for Gervais's acting talents. He won in 2004 for his role as David Brent in The Office, and in 2008 he was shortlisted for Extras. Both Extras and The Office have also won Golden Globes for best comedy.
Nominated in the best comedy actress category today are Lena Dunham for Girls; Edie Falco for Nurse Jackie; Julia Louis-Dreyfus for Veep; Gina Rodriguez for Jane The Virgin; and Taylor Schilling fro Orange Is The New Black
Up for best comedy or musical series are: Girls, Jane The Virgin, Orange Is The New Black, Silicon Valley and Transparent
Gervais said he was 'buzzing' from the nomination, tweeting: 'It could well be the highlight of my career as the character means so much to me.'
The annual awards take place on January 11. They recognise both film and television and will be hosted for the third year running by Amy Poehler and Tina Fey.
Gervais hosted the ceremony in 2010, 2011 and 2012 – but his roast-style jokes divided the celebrity audience.
Published: 11 Dec 2014
What do you think?