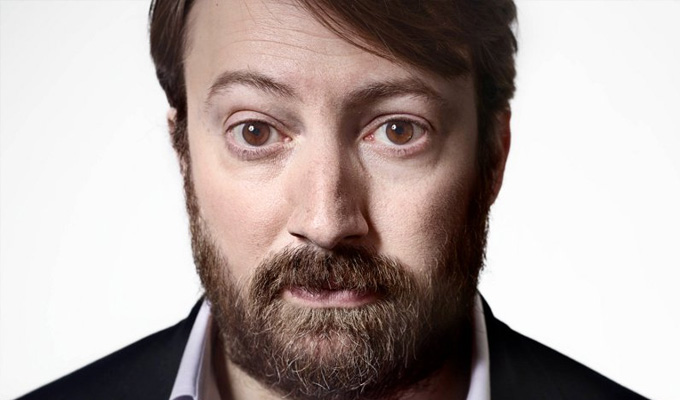 Film roles for Mitchell, Eldon and Brigstocke
David Mitchell, Kevin Eldon and Marcus Brigstocke are to appear in a new family film.
The three guest star in The Friday Download Movie, a big-screen spin-off from the CBBC series, currently shooting around Swansea.
Outnumbered's Tyger Drew-Honey, a former presenter of the teenage magazine show, also returns for what's described as 'a PG family romp, live action Scooby Doo-esque adventure'.
Mitchell plays a pedantic policeman, Eldon a suspicious character named Mr Prim who spends an unusual amount of time in graveyards, while Brigstocke has a cameo as himself being pestered by autograph hunters.
The film is scheduled to appear in cinemas at Easter.
Drew-Honey and fellow ex-presenter Louisa Connolly-Burnham play a pair of siblings who own the house that the Friday Download gang come to stay in while on holiday.
'All is not as it seems' explains producer Jeremy Salsby, who co-created Radio 4's The Brig Society with Brigstocke. 'There's a few bumps in the night, they struggle to sleep and to get out of the house'.
Current presenters Richard Wisker, Dionne Bromfield, George Sear and Shannon Flynn from Shameless are joined by Bobby Lockwood and Bad Education's Ethan Lawrence in the gang. Pop band The Vamps also have a cameo.
Written by Yonderland and That Mitchell and Webb writer Toby Davies, the film is directed by John Henderson, who helmed Benidorm and Spy. It is produced by Salsby's Saltbeef Productions and Jules Elvins and Dan Shepherd of Pilot Media.
An eighth series of the Bafta-winning Friday Download returns to CBBC next month.
- by Jay Richardson
Published: 24 Sep 2014
What do you think?