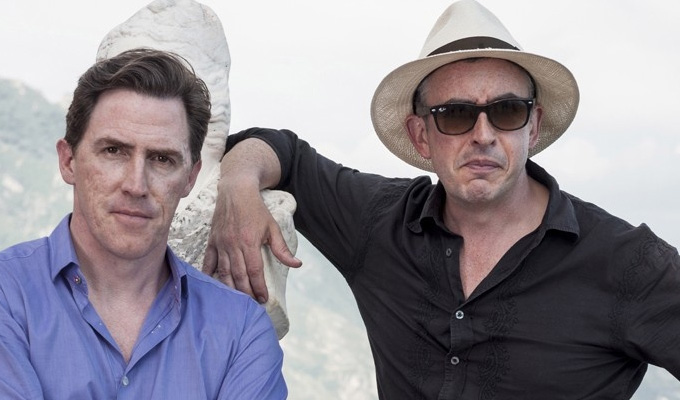 Taking another Trip
The comedy week ahead...
Monday March 31
LIVE IN GLASGOW: Rory Bremner hosts another show taking a comic look at the Scottish Referendum as part of the ongoing Glasgow Comedy Festival, as it enters its final week. Citizens Theatre, 8pm
LIVE IN LONDON: A packed bill at the Leicester Square Theatre is raising money for the MS Society. The line-up includes Josh Widdicombe, Seann Walsh, Romesh Ranganathan and more…
TV: Nick Hornby's novel About A Boy has previously hit screens as a 2002 film starring Hugh Grant; and now it's been made into a US sitcom, with David Walton playing the carefree bachelor who forms a relationship with the son of the single mum next door. So yes, Nick Helm's Uncle was a different take on the same premise. Stand-up Al Madrigal plays best pal Andy and this first episode has Iron Man director Jon Favreau at the helm. Sky 1, 9.30pm
Monday March 31
LIVE IN BATH: The city's comedy festival continues with a double bill at the Natural Theatre Studio, with Carey Marx looking at the lighter side of his heart attack at 7pm, and silly hosiery-based humour from the Scottish Falsetto Sock Puppet Theatre at 9pm.
Thursday April 3
LIVE IN LONDON: Another benefit with a top line-up at the Bloomsbury Theatre, this one taken from the more alternative end of the circuit with acts including Bridget Christie, Henning Wehn, Kevin Eldon,Miles Jupp, Simon Munnery and Stewart Lee. It's all for Glioblastoma brain tumour research.
LIVE IN BRISTOL: Liam Williams performs his exquisitely written debut hour, with an impressive support line-up that includes passionate young political Alfie Brown and the witty social outsider Sean McLoughlin.Wardrobe Theatre. 8pm.
Friday April 4
TV: The Trip to Italy, Steve Coogan and Rob Brydon's long-awaited follow-up to their 2010 gastronomical tour sees the 'heightened versions of themselves' touring Piemonte, Liguria, Tuscany, Rome, Amalfi and ending in Capri. Beautiful scenery and a script that deftly avoids the egotistical in-joke this could so easily have become combine for a funny but low-key travelogue. BBC Two, 10pm.
LIVE IN BATH: In a unique event, the stars of Stella Street, Phil Cornwell and John Sessions, revive their cult late 1990s BBC Two show on stage at the Komedia.
LIVE IN LONDON: Andrew Lawrence brings his bitter (but funny) misanthropy to the Bloomsbury Theatre for two nights, as part of his There Is No Escape tour.
Friday April 4
LIVE IN LONDON:
Fine American comic
Jim Gaffigan
makes a rare flying visit to the UK, with one night of his keen observations on family life in general and food and drink in particular on offer at the Leicester Square Theatre.
Published: 30 Mar 2014
What do you think?