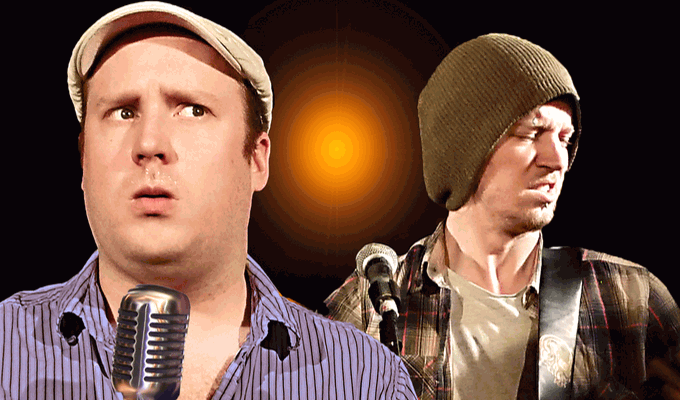 UKIP tries to shut down comedy tour
UKIP is trying to stop musical comedy duo Jonny And The Baptists from touring.
Their current show is called The Stop UKIP Tour, prompting party supporters to target venues with a sustained written and phone call campaign. They have also put pressure on venues' sponsors and benefactors.
The campaign was sparked by UKIP's deputy leader Paul Nuttall, who said: 'Everyone is entitled to their own opinion and UKIP is very much the party of free speech but I think it is wrong that taxpayers money is being used to back this production.
The UKIP MEP for the North West Of England complained on the party website that: 'This blatantly party political rubbish is being staged to coincide with the run-up to the Euro elections in May and I am appalled that one of the venues in [sic] the much lauded Royal Exchange Theatre in Manchester. I would have hoped they had higher standards than giving this show house room.
'I have written to the Arts Council about this matter and also the Royal Exchange expressing my views about this distasteful satire.'
Mr Nuttall's attempts to shut down the tour came before his leader, Nigel Farage said comedians should be allowed to joke about what they wanted.
Defending comic Paul Eastwood, who cracked a string of gags targeting foreigners at UKIP's spring conference, Farage said: 'I'm not going to comment on individual jokes, but I think we're in huge danger here. This was a guy telling jokes about national stereotypes, not racial stereotypes. We are heading down a road here where we would kill all humour in this country if we tear things to pieces.
'Enough is enough, let people tell their jokes. If what they say is inappropriate they won't earn a living because they won't get booked again.'
A spokeswoman for the Royal Exchange confirmed that 'we've never had as many complaints about a show [as The Stop UKIP tour]. We had calls from people saying they were loyal customers and they come a lot but when we checked their names in our database they've never bought a ticket before. I think it was kind of to give us the scares'.
The Baptists' lead singer, Jonny Donahoe added: 'We got to Exeter and the owner of the Bike Shed [theatre] tells me, "I cannot begin to tell you the letters I've been getting".
The group, whose tongue-in-cheek tune UKIP suggests the party believes all Eastern Europeans 'live off benefits and won't let us watch Jim Davidson' and wants 'the Queen's jubilee [to] be every day', have received no funding for their tour apart from ticket sales.
Like many venues in England, the Royal Exchange Theatre receives Arts Council funding and has corporate sponsorship. But the Arts Council's 2011-2015 mission statement pledges to pursue 'an artistically-led approach to diversity in the arts' and that 'where appropriate, it will 'support' and 'facilitat[e]' any 'provocation to prise major questions into the open'.
Thus far, none of the Baptists' venues have bowed to pressure and pulled the show. 'They've all had the same response which is, "Well, we'd like this theatre work to go on" and been quite carefree about it,' says Donahoe.
'Now obviously, I've never refused any funding whatsoever. But the Arts Council aren't in any way involved with our show. They might be involved in a small way with some of those venues but that's a very different thing. We're a comedy group. I've never heard of anyone getting a comedy grant.'
However, this has not stopped UKIP supporters writing to venues, with missives, seen by Chortle, inviting them 'to reconsider the wisdom of hosting this production', complaining of 'ill-timed … totally inappropriate use of taxpayers' money … flagrant bias' and 'a serious breach of ethics during the four months prior to a major election'.
Abuse of the band has also been posted on the Royal Exchange Theatre's website, including such comments as 'are you EU funded or bribed?', 'look at the fat ugly creep .. you are total parasites', 'at least Ukip haven't started any illegal wars. Or flooded the country with foreign paedos' and in apparent reference to the group's occasional appearances on Radio 4, 'Wow, the BBC; a bunch of people who have never done a days [sic] work in their lives … a group of left-wing crackpot Marxists'.
Donahoe's 'absolute favourite that someone wrote to me' was 'if you're so politically correct, why didn't you call yourself Mohammed and the Mullahs?" Which I can only respond to with "my name is Johnny, not Mohammed."
'Another was "I wish you all the luck in the world, I hope you break your leg and I really hope you break your fucking neck as well". Now, I don't think that counts as a death threat because of "I wish". That's just a prayer right?'
The singer, who wanted to call the group's last Edinburgh Fringe show 10 Songs About UKIP 'but chickened out', claims that they're not just trying to score easy points at the party's expense.
'I've read their manifesto, twice, and I've really read up on UKIP and really followed them. And they've not come to see the show, so it's quite hard for them to actually say anything that sticks because they don't know anything about it, apart from the press release. They tend to say these metrosexual, liberal pinkos from the BBC, overpaid, they don't understand the common people.'
Still, the band have tried 'to not just tour places where you'd be preaching to the converted. The places that really sell well are Barnsley, Manchester, Leicester, Derby, places where there is some divide, where there are people who are starting to vote for UKIP and there are people who are worried about that. They're the places that I'm most interested in going to.'
And he recalls a 'delightful' UKIP supporter actually attending the show in Leicester.
'He put up a "I'm Voting UKIP" poster on the wall next to his seat and watched with a pint. And we had some banter. He was very polite. We disagreed on almost everything, politically speaking, but we still had a drink together.
'At the end of the show he came up to me and gave me a hug and said that we probably disagreed on almost everything, apart from one thing, which was after I read out the abuse we'd received, he wanted to apologise on behalf of UKIP. He's in no position to do so, he's just a member. But he was appalled by all of that and would like it to be a serious party'.
UKIP is not without its comedy supporters. Cornish comic Jethro revealed this week that he is backing the party.
Here is Jonny & The Baptists' UKIP song:
- by Jay Richardson
Published: 6 Mar 2014
What do you think?